So apparently I've been doing everything WRONG when it comes to Facebook marketing for leads!
Just saw a recording of a webinar that made me realize that I've been messing up BIG TIME. I discovered it's way easier than I thought and definitely possible to pull in well over 30+ leads every single day for my business!!...
I've you've been putting off using Facebook for lead generation then you've got to see this FREE webinar.
This amazing marketer, (we'll call her "Ms. X") has had ** WEEKS ** where she pulled in over $10,000, and consistently pulls in leads and new Fans everyday.
She even goes over some INSANE Facebook PPC strategies. Go check it out before they start charging for it or take it down completely… CLICK HERE to watch it now:

== > http://alwilliams49.socialmediainsanity.com/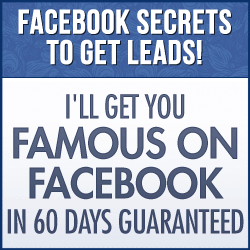 Facebook Business