Charleston Auto Glass & Power Window Repairs Auto Glass is an automotive replacement facility located at 4225 E sahara ave #9 las vegas nv,89104 We Charleston Auto Glass offers auto glass repair ,Power window repairs and replacement for all types of domestic and foreign makes and models. Charleston Auto Glass offers the most efficient auto glass replacement service in the industry. Our trained professionals use only the finest quality glass and materials along with state-of-the-art installation techniques that guarantee the original structural integrity of the vehicle. 702-577-1729 mobile service available. Same day service!!

QUALITY AUTO GLASS $99

We pride ourselves on prompt service and customer satisfaction. If you have any needs with auto glass repair, windshield replacement, or Power windows work, call us.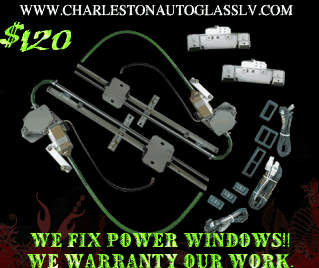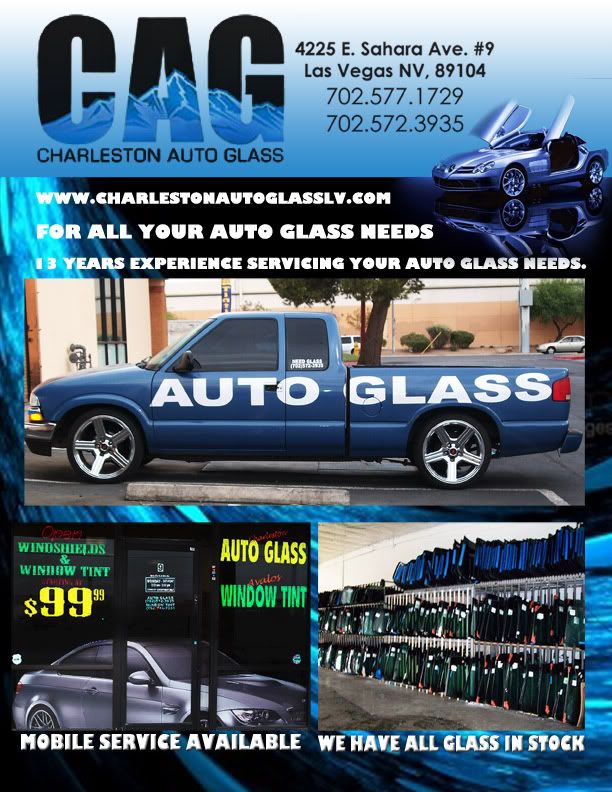 ¤4225 E SAHARA AVE #9 LAS VEGAS NV,89104

¤327 S DECATUR BLVD LAS VEGAS NV,89107

¤OFFICE #702-577-1729

¤MOBILE#702-572-3970

♦ NEW WINDSHIELDS STARTING AT $99

♦ POWER WINDOWS REPAIRS $120

♦ ROCK CHIP $19.99

♦ we offer worksmanship warranty.life time

♦Window tinting starimg at $99

♦Licensed - Insured All Work Guarantee!

♦Top Quality Auto glass Replacement at Affordable Prices

In Addition To Our Mobile Service Fleet, We Have A Full Service Facility Conveniently Located Close To The 95 and 215 Freeways.

Our Professional Knowledgeable Installers Are Fully Certified And Our Prices Are Competitive.auto glass,window tinting,tint,windshields,windshields replacements,automotive glass replacements,automotive windshields,local auto glassACURA, AIRBUS, ALFA ROMEO, AMERICAN MOTORS, AUDI, AUSTIN, AUTOCAR, AVANTI, BERING, BLUEBIRD, BMW, BOUNDER, BOYERTOWN, BRICKLIN, BROCKWAY, BUICK, CADILLAC, CHECKER,CHEVROLET, CHRYSLER, COLUMBUS, CORDURA, DAEWOO, DAIHATSU, DATSUN, DELOREAN, DIAMOND REO, DODGE, EAGLE, EDSEL, FIAT, FLYER BUS, FORD, FREIGHTLINER, FWD, GEO, GMC, GMC TRUCK, GRUMMAN OLSON, HINO, HOLIDAY RAMBLER, HONDA, HUMMER, HYUNDAI, INFINITI , INTERNATIONAL, ISUZU, RODEO, IVECO, JAGUAR, JEEP, GRAND CHEROKEE, KENWORTH, KIA, LANCIA, LAND ROVER, LEXUS, LINCOLN, MACK, MAGIRUS, MASERATI, MAZDA, MCI, MERCEDES BENZ, MERCURY, MERKUR, MG, MINI, MITSUBISHI, MORGAN OLSON, MOTOR HOME, NABI, NATIONAL COACH, NAVISTAR, NISSAN, OLDSMOBILE, OPEL, PACE ARROW, PETERBILT, PEUGEOT, PLYMOUTH, PONTIAC, PORSCHE, PREVOST BUS, RENAULT, ROLLS ROYCE, ROVER, SAAB, SATURN, SCANIA, SCION, SEAT, SILVER EAGLE, SIMCA, SMART, SOUTHWIND, STERLING, STERLING TRUCKS, STUDEBAKER, SUBARU, SUNBEAM, SUZUKI, THOMAS, TOYOTA, TRIUMPH, UTILIMASTER, VOLKSWAGEN, VOLVO, WESTERN STAR, WHITE, WORKHORSE, YUGO,repair windshield cracks ,replace widshield ,replacement windshields, replacing windshield, rock chip repair, window glass repair,window repair ,windscreen repair ,windscreen repairs ,windshield, windshield chip, repair auto glass ,autoglass, replacement auto glass ,auto glass service ,city auto glass, new auto glass, auto glass repair service, auto glass and repair, mobile auto glass, used auto glass, auto glass windshield ,auto glass tinting ,auto glass parts, auto glass company, auto glass online, Windshield, windshield repair ,windshield wiper, windshield replacement, car windshield, windshield washer, auto windshield ,windshield glass ,car windshield mount ,windshield wiper motor. windshield accessories ,automotive windshield, windshield wiper blade, POWER WINDOW,MANUAL WINDOWS,CHEAP MOBILE AUTO GLASS REPLACEMENT,CHEAP WINDSHIELDS,CHEAP AUTO GLASS LOCAL SHOPS,DOOR GLASS,BACK GLASS,VENT GLASS,QUOTER GLASS ,REAR GLASS,REAR BACK GLASS,LOW PRICE AUTO GLASS,WINDSHIELDS QUOTE,AUTOMOTIVE GLASS,AUTOMOTIVE GLASS REPAIR,AUTOMOTIVE PARTS,AUTOMOTIVE GLASS REPLACEMENTS,AUTOMOTIVE WINDSHIELDS REPLACE ,CAR DOOR WINDOW,CAR BACK GLASS,CAR FRONT GLASS,CAR VENT GLASS,CAR WINDSHIELD REPLACE,CAR QUOTER GLASS,CAR GLASS REPLACE, glass, front glass, automotive glass, automotive service, service offered, general for sale ,parts, car parts, general auto glass replacements, services offered > small biz ads, for sale / wanted > business/commercial ,for sale / wanted > autoparts,ford,chevy,chrisler,gmc,nissan,pontiac,buick,bmw,mercedes,lincon,saturn,lincon,silverado,toyota,honda,pontiac,mitsubichi.jeep KEYWORDS: AUTO GLASS, REPLACE, REPLACEMENT, REPAIR, WINDSHIELD, WINDSHIELDS, CAR, TRUCK, WINDOW, GLASS, WINDOW TINT, WINDOW TINTING ,CHEAP WINDSHIELDS,AFFORTABLE WINDSHIELDS,ALL AUTO GLASS NEEDS,ROCK CHIPS,ROCK CHIPS REPAIR ,POWER WINDOWS REPAIR ,AUTOMOTIVE SERVICES, GLASS,MOVILE GLASS.CHEAP MOVILE GLASS,CHEAP MOVILE WINDSHIELD,CHEAP AUTOMOTIVE GLASS,CHEAP AUTOMOTIVE WINDSHIELDS. Enterprise, Summerline, Spring Valley, Paradise, Whitney Ranch, Henderson, Sunrise Manor, North Las Vegas, The Lakes Country Club, Peccole Ranch, Canyon Gate, Winchester, Rhodes Ranch, Sovana, Green Valley.

The National Glass Association is the largest trade association for the auto glass, architectural glass, and window and door markets