The Fastest and Easiest Way to Find the Right Paint Color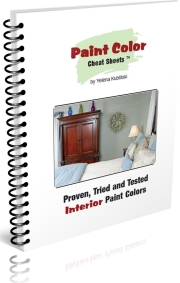 It's a shortcut to the best, most popular, timeless Sherwin Williams paint colors that I have personally proven, tried and tested in real life.
It's called the Paint Color Cheat Sheets™ - with the idea that now you won't have to wade through hundreds or thousands of paint colors anymore, in order to find the right one.
Did you know that Over 40% of All Paint Purchases Are Made
as a Result of an Original Color Mistake?
OUCH!
That's right - most of the colors you see in a paint color deck will never make successful wall colors - because they are either too dark, too intense, or just plain wrong otherwise.
PAINT COLOR CHEAT SHEETS is a totally new approach to choosing paint colors, where the entire process (picking, previewing and sampling the colors) is done in the comfort of your own home, from start to finish. You only need to go to the paint store once - when you're ready to buy the paint.
The process is fast, easy and doesn't cost you anything - not even for the samples!