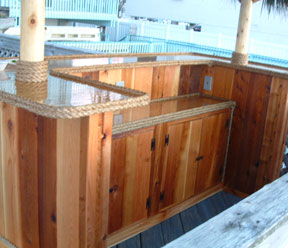 Beautiful.,.!!!
Not to Shaby. I think it looks Amazing.,.!
How to Build Your Own High-Quality Tiki Bar
Hi, I'm Tiki Kev, builder of custom Tiki bars, Tiki huts and Tiki furniture. I'm about to share my years of experience, proven techniques and many secrets behind building the best Tiki Bar available with you in my e-book. Now anyone can build a great-looking, professional-quality Tiki bar just like the ones I've delivered for years. I'm going to show you exactly how...