Rap Instrumentals - Listen To Over 300 Hott Beats Created by Genycis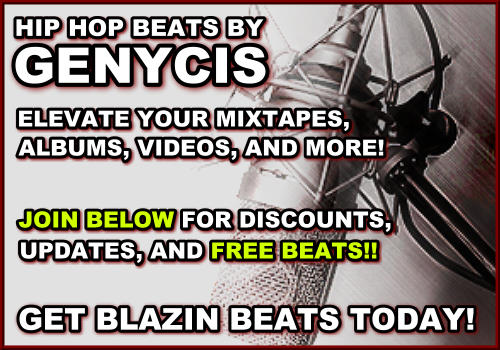 JOIN BELOW FOR DISCOUNTS, UPDATES, FREE BEATS, AND MORE!
Fill out the brief info below to join today!*°

*All information entered above is kept 100% confidential.
­°you can click on the image instead if you don't wish to fill the form above.

Are you the next big hip hop hit? Do you have the right beats? If you're in the hip hop community, you know that being the next big hit is majorly relied on what? You guessed it... the beats!
Most of what is played on the radio today sounds better than it actually is because (to me anyway) of the hip hop instrumentals being used. You rarely hear people say "that was the greatest a-capella ever!", and that again is in part to the beats that are being used! The hotter the beat, the hotter you'll sound! Simple enough, right?
Well I'll make it simpler. If you are an hip hop artist or singer looking to elevate your album or mixtape, you'll want to sign in to the form above with your name and email, and you'll be taken to the site, where you can download some free beats, and where you'll receive a discount price (prices already slashed) on all the beats on the site that are normally charged at 17.00 per beat. You'll also stay up to date on the latest beats being added to the site. Not a whole lot to ask for, is it?
With over 300+ hip hop beats now available to the website, you'll have a large variety of beats to choose from. All beats were created from scratch unless otherwise mentioned.
Again, to stay updated, simply log in with your email address and name, and head to the beats section and start listening to some beats now! Invest in your hip hop game today!
Genycis
www.genycis.com Beats
www.SoundsForBeats.com Soundkits