Do you want to regain some of your youthful appearance back? Guess what, you may be able to do it. Here's why...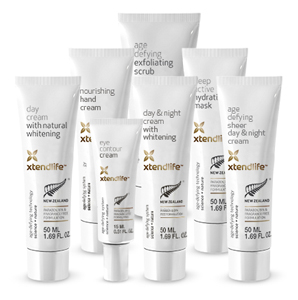 1. For stimulating collagen and elastin regrowth - It is proven in clinical trials to stimulate the regrowth of collagen, elastin and new skin cells.
2. Boosting hyaluronic acid - It inhibits a harmful enzyme (hyaluronidase) which breaks down hyaluronic acid in your skin. This is clinically proven.
3. Destroying free radicals - It is extremely effective at 'gobbling up' free radicals in your skin, which results in quite a dramatic anti-wrinkle effect.
Plus, the Xtend Life Restorative Night Cream Formula will penetrate deeply into your skin. It helps you look younger on the outside while it will also work daily to rejuvenate the health of your skin for the long term.
- Xtend-TK is almost like applying a 'liquid skin' to your face and body, in a unique bio-available form which stimulates the growth of new skin cells. Furthermore, it is a wonderful moisturizer, which penetrates deeply into the skin, and also forms an invisible barrier to retain moisture. (click to read more)
- Nano-Lipobelle H EQ10 is a special 'nano-emulsion' form of CoenzymeQ10, which penetrates deeply into your skin. It has been shown in scientific studies to produce quite a dramatic anti-wrinkle effect. (click to read more)
- Active Manuka Honey is rich in antioxidants and stimulates the immune system. It helps to restore and rejuvenate your skin while you sleep, making it look younger and softer. (click to read more)
- Avocado Oil is also scientifically-proven to stimulate collagen production and increase the proportion of soluble collagen in the dermis of your skin to make it look smoother and younger. (click to read more)
- Natural vitamin E (Alpha-tocopherol) is a powerful antioxidant, which has been shown in many scientific studies to reverse the effects of aging on the skin. (click to read more)
- Babassu is a light, natural wax, which softens and soothes your skin and creates an invisible barrier to retain moisture and keep out dirt and grime. (click to read more)
- Shea Butter is a natural moisturizer and an emollient, which softens the skin, and also soothes inflamed skin. It also helps to reduce scars, blemishes and brown spots on the skin, and smooth out wrinkles and stretch marks. (click to read more)
- Phytessence Wakame is an extract from a Japanese sea kelp. It attacks a harmful enzyme (hyaluronidase) which breaks down hyaluronic acid in your skin. (click to read more)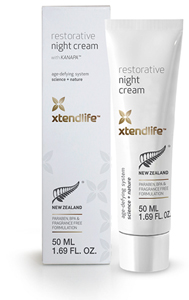 This is the best night cream I have ever tried (and I have gone through many of the expensive branded ones). It feels so nourishing and I love the way my skin just drinks it up, revealing beautifully refreshed and soft skin in the morning. It is great to have found a night cream that is natural, affordable and produces such great results. (by Lynn W, UK August 4th, 2011)
I have been using the Restorative Night Cream and am very happy with the result. Those fine lines I used to see on my face and forehead are now gone. I hope the Eye Cream I am now ordering will give me a good result as well. Can't wait to try it. (by Thao L, USA February 12th, 2010)