Glaze n Seal Stone Care Kit
Include in this kit
(4 oz) Stone Cleaner Concentrate - A concentrated, neutral cleaner for safe use on all stone, everyday. No rinse formula.
(8 oz) Stone Color Enhancer & Seal - Offers exceptional "Natural Look" color enhancement and sealing in one product Recommended for tumbled marble, flamed granite, honed travertine, and other select surfaces that accept enhancement. ADVANCED STONE CARE formula is odor free.
(8 oz) Stone Gloss - Restores luster and enhances color on tables, counter tops and vanities made of fine polished stone. Provides a clear barrier with no oily residue. NOT recommended for floors
In stock - Ship Same Day
Approximate Coverage 4 oz, 200 -400 Sq. Feet
Restores luster and enhances color.
Leaves no oily residue and does not smudge.
Easy to apply and economical.
Provides a clear durable barrier against materials that may damage the stone.
Ideal for use on decorated fixtures, counter tops, tables, vanities and walls.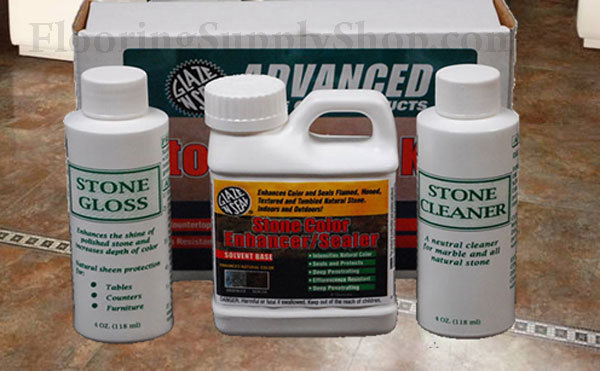 General Maintenance Tips
1. Wipe surface regularly to remove loose dirt and soil.
2. Promptly wipe up spill to avoid risk of staining.
3. Reseal as necessary.
our store open to the public
5047 W Jefferson Blvd Los Angeles CA 90016
Mon - Fri 7:00 am - 5:00pm
Sunday 12 noon - 4:00pm

For more product visit our web site http://www.flooringsupplyshop.com/
Or call us at 323-731-8453