Miracle Mira Clean No 1 Cleaner Swivel Mop Kit
For Grout, Tile and Natural Stone
Kit include :
1. 18" Aluminum commercial grade swivel mop
1. 32oz Concentrate Cleaner Miracle Mira Clean No 1
1. Tile & Grout Scrubber Microfiber pad
1. Spray Bottles & Nozzles, Tough plastic bottles marked with ounce and milliliter measurements.
Coverage: 32 Oz of cleaner will make up to 16 gallons once diluted.
In stock - Ship Same Day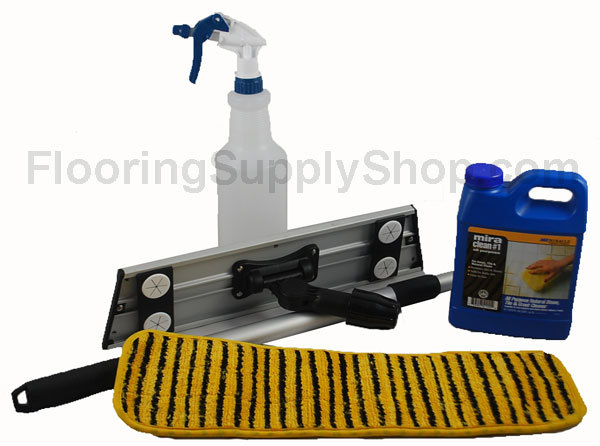 Swivel & Pole Feature :
Universal handle adapter
Made for industrial & Commercial use
360 degree motion
Sturdy Riveted Assembly
3.5" Metal pin Swivel
Pole expend from 28" - 70"
Pole 2mm aluminum tubing thick
Microfiber pad :
Course Polyester bristle strips for grout cleaning (black)
Microfiber fabric for tile and stone (gold)
18" microfiber
Mira Clean No 1
Deep Cleaning Action for Most Surfaces Including
• Sanded and Non-sanded Grout • Quarry Tile • Clay Pavers • Limestone • Ceramic Tile • Glazed Tile • Granite and Marble • Terrazzo • Brick and Slate • Travertine • Concrete and Masonry
Mira Clean #1 is a concentrated cleaner designed for all surfaces. Strong enough for the professional, yet gentle enough for the do-it-yourself specialist. Mira Clean #1 is a nontoxic cleaner that can handle the most difficult stains, yet is gentle enough for everyday use.
SPECIAL FEATURES:
• Safe for Regular Use • Interior & Exterior • Less Expensive • Easy to Use
our store open to the public
5047 W Jefferson Blvd Los Angeles CA 90016
Mon - Fri 7:00 am - 5:00pm
Sunday 12 noon - 4:00pm

For more product visit our web site http://www.flooringsupplyshop.com/
Or call us at 323-731-8453