Miracle Sealants Grout Shield 70 oz
In stock - Ship Same Day
Miracle Grout Shield is a replacement for water when combined with traditional sanded grout.
Without relying on impurities in water, Miracle Grout Shield creates a consistent mixture every time and eliminates the need for sealing after drying. Combined with an industry leading warranty, why would you ever use water for your grout installations?
Grout Shield is a specialty sealer additive that mixes with cement-based grout instead of water to provide a stain resistant grout installation without any additional sealing. Perfect for interior and exterior use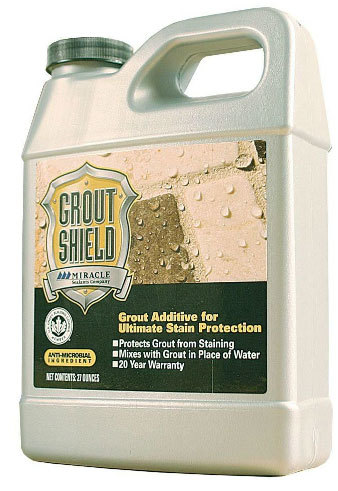 Always Sample Testing
SPECIAL FEATURES:
To be used with Sanded Grout
Interior & Exterior Use
Protects grout from staining
eliminates the need to seal the grout
20 year warranty
Easy To Use
Coverage: Follow grout manufacturer's published coverage.
Container Sizes: 70 oz
Click here for Miracle Sealants Grout Shield information
More Sealers and Care Product Available on our web site
WE SHIP SAME DAY NATIONWIDE
Our store open to the public
5047 W Jefferson Blvd Los Angeles CA 90016
Mon - Fri 7:00 am - 5:00pm
Sunday 12 noon - 4:00pm
For more product visit our web site http://www.flooringsupplyshop.com/
Or call us at 323-731-8453