Email BigDaddy
- BigDaddy@HuntSports.com
SUPER DEAL* $199.99
Flat Rate Shipping To Lower 48 States Only $ 39.99
"BigDaddy" at HuntSports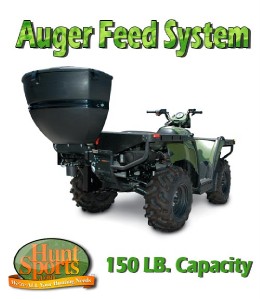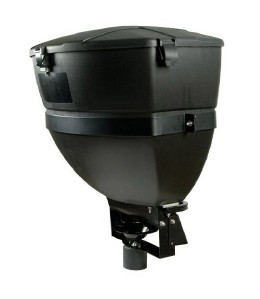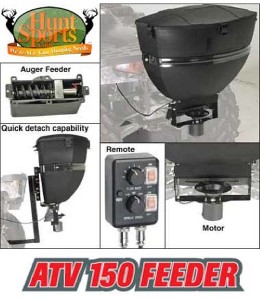 Visit Website - www.HuntSports.com
We've sold lots of these for $268.88 + $69.95 S&H etc. - now we're waiting on the new model year and we're closing them out!! These are the American Hunter HuntSports HSATV150 Six (6) Speed Auger Drive Units with a whopping 150 Lb Capacity Hopper - for spreading corn on the roads and senderos, seeding those foodplots or spreading granulated fertilizer too!
SIMPLY THE BEST DEAL AND BEST VALUE - FOR A LIMITED TIME!! Call It What You Want - All Terrain Vehicle, ATV, Utility Terrain Vehicle, UTV, Side By Side SXS, and no mater if it's 2X4, 4X4, or 6X6, a Battery Powered Bad Boy Buggy or a KUBOTA RTV Diesel, Polaris Ranger, SUZUKI, Kawasaki, Honda Big Red, TERYX, Cub Cadet, BobCat or Artic Cat, Yamaha Rhino or ThunderCat 1000
Let HuntSports help you this hunting season - 150 Lb Capacity 12V Unit, Poly Hopper System with with Electric Auger Feed Control and 2/5 40 RPM Motor Drive for Variable Feed Rate for all applications; Unit ships complete with a Universal mounting bracket and standard 2" Receiver Hitch Adapter set-up; Compatible with most units on the market, or can very easily be adapted*; Wiring and motor are covered with all weather insulated rubber; Comes with a generous 15' power control cable unit control assembly for easy mounting or you can easily move and adapt to any pickup, jeep or other off road or hunting vehicle with a standard 2" Reciever set up; Large Shipping Package - everything you need is included;

*PLEASE NOTE: Compatibility with some UTV units that require a deeper hitch assembly because of depth of rear racks, dump features etc. may require receiver hitch extension and will need to be purchased separately or made locally; These units are Universal and Not Model Specific.