Hunt Sports All American BOSS100 ATV / UTV Tailgate Feeders
100 lb Capacity ATV SUV UTV Feeder - Dimensions: 20½"T x 30"W x 8¼"D
Attaches to tailgate, cargo rack, front rack or Optional Reciever Hitch Set-Up; adjustable brackets; Push-button switch to release feed on command; 12V system lockable latch lid.

You can spread corn, soybeans, pellets, feed, seed, salt or fertilizer with HuntSports American Boss100 SXS / ATV / UTV broadcast spreader. Just the ticket for multiple jobs! Spread food plot seed mix or fertilizers, Snow Melt and Salt on your driveway or parking lots or Landscape Work Made easy - Spread grass seeds and much more!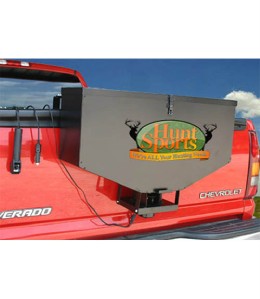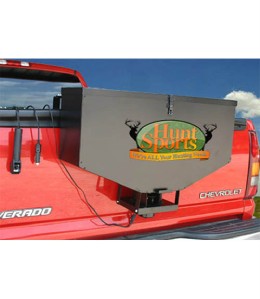 All Our Units have adjustable feed rate and flow with sliding handle on hopper.
Allows user to adjust the opening from the hopper.
Units will disperse seeds as small as turnip seed ( that's small )
You can spread large diameter fertilizers that tend to clump
12 volt "high torque" spreader system throws 6'- 8'W path
Adjustable "spinner cup" for fine tuning your specific needs.
Galvanized steel with powder coat finish.
Cigarette lighter adapter with 20' long cord.
NOTE: These fit ATV UTV SXS UNITS and also come available with optional 2" Reciever Hitch Units; Basic unit comes with universal mounting hardware for any Bad Boy Buggy, Arctic Cat, Prowler, KUBOTA, Polaris Ranger, Cub Cadet, SUZUKI'S, King-Quad, Kawasaki MULE, TERYX, Bayou, Prairie, Brute Force, KFX, Honda, MUV/UTV TRX, Big Red, Utility, Rancher 4X4, Rincon, Foreman, Recon, Arctic Cat, Can-Am Utility, Polaris Sportsman, Yamaha, Rhino, Grizzly, Big Bear, Wolverine, John Deere Gator, AND OTHERS