The bodybugg®
State-of-the-Art Calorie Management System
Now you can know how many calories you're burning with the revolutionary bodybugg calorie management system. Combined with a user-friendly web-based program*, the bodybugg makes it easy to manage the calories you consume and burn so that you can stay in control of your weight.
Uses specialized sensors to monitor calories burned with over 90% accuracy.
Manages calorie consumption through a web-based program free for 6 months.
Tracks steps with a built-in pedometer.
Includes a 45-minute phone coaching session to help get you started.
PC and Mac compatible.
Runs on a rechargeable battery.
Bodybugg Coupon Code: Save $60 OFF (limited time)
The Biggest Loser
NBC's popular unscripted reality series "The Biggest Loser" is back and so is 24 Hour Fitness to help contestants reach their fitness goals. By providing the tools they need in their quest to lose weight , like the bodybugg® calorie management system, state-of-the-art workout spaces and cutting edge equipment, 24 Hour Fitness along with trainers Jillian Michaels and Bob Harper are motivating and supporting the contestants as they compete for the $250,000 grand prize – and the title of Biggest Loser.
Partnering with The Biggest Loser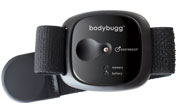 For the last eight seasons, 24 Hour Fitness has partnered with The Biggest Loser to help contestants change their lives through health and fitness. On this season of the Biggest Loser watch as 24 Hour Fitness provides the following support:
The bodybugg calorie management system: Contestants will be provided with the bodybugg armband and a digital display that will keep the users up-to-date on how many calories they have burned throughout a 24-hour day. The system features a Web interface that will help contestants track calories consumed based on user input to the software. The technology assists contestants with daily meal planning and it has been a valuable tool in helping previous contestants meet their fitness goals.
Learn More About: BodyBugg Calorie Management System