This is an 8 Week, Results driven system of exercise and nutritional advice programme designed specifically for the equestrian athlete. It is a an implementation style e-book, where the buyer will receive email support on a weekly basis to help them.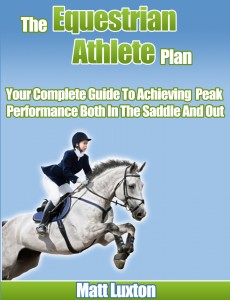 An Eight Week Progressive Training Plan designed to massively boost your performance day to day in the saddle. Allowing you to achieve great things, even greater than buying a more expensive horse will ever do. That's 8 weeks where I will be telling you exactly what you need to do, all you have to do is follow me.


50+ Page Manual so that you can fully understand why you need to think more holistically about your riding performance and which exercises are going to help you be the best you can on your horse.

8 Weeks Of Day By Day Workouts In The Same Format I Use With My Equestrian Athlete's At My Studio. I will leave no stone un turned in getting you riding fit. Don't worry you most definitely won't be training at the weekends if you are competing , and the workouts taper towards the end of the week when you need to conserve energy, so don't worry I have it covered, I have done this before. Within this structured programme you will not be left wondering what you are supposed to be doing today.

Over 15 Support Videos Of The Exercise Routines, so that it doesn't matter where you are in the world you can refer back to the video just to give yourself a quick reminder of what the exercises look like in the flesh.

Over 15 Pages of Nutritional Guidance specifically for the Equestrian Athlete. The Hot to Trot Nutritional Plan enables you to optimise your health and well being, to make sure that every day with your horse(s) is full of energy and enjoyment. Eating whole clean foods will just be a no brainer after you begin.

Fully Home Based Training Programme so that you don't add more time stress into your already busy day. You will be so amazed at the results you can achieve at home with a limited amount of equipment.
Every Workout Is Time Efficient taking away the previously generic long slow runs/cycles that you found boring and largely in effective previously. This is specific to your sport so saves time where other programmes have wasted it.

A Guide On How To Assess Your Posture At Home, using the same postural assessment I use with my 1-1 clients, so that you can see how your posture is at the start and at the end of the programme and help you to understand perhaps why you may have suffered with a stiff lower back or may be at risk of a stiff back or injury in the future. This has been such a vital tool for those Equestrian Athlete's who I have worked with.

Mindset Chapter empowering you with some key tips to help you block out any negative thoughts that you may have had previously, allowing you to focus on the positive and achieve 'your winning'. You will, like my Personal Training Clients find mental rehearsal is key to being confident every time you ride, particularly in competitions or in nervous situations.

A 'Take Out' Foam Rolling and Stretching Manual with Videos to support you in maintaining and developing your flexibility and optimal posture. These will give you the coaching points you need to take you from top to toe of your body keeping 'your top line' in full working order.
3 Specific Mobility Circuits- so that you, the Equestrian Athlete can warm up to ride, exercise and susequently get the most from both your training and ultimately your riding. The mobility really focuses on the ankles, hips, upper back and shoulders, four key areas for the Equestrian Athlete.

Over 50 page Exercise Library so that you can take it with you when you are working out to refer to in case you forget what the exercise is meant to look like. The exercises have descriptions in case you can't quite remember what the movement should look and feel like.

An Online Community so that you can interact with others on the programme, share ideas and have access to me to answer any questions you may have along the way.
Audio Interviews With Top Fitness Professionals In The UK—-so that you can gain a from the horse's mouth insight to parts of the programme.
A section on how to train the legs but without getting bulky so that you can understand why you won't be developing huge , bulky legs on the Equestrian Athlete Plan and what sort of exercise you need to do to get the best legs for riding
Audio Chapters of the book – so that if you are not a keen reader, or you prefer to hear than read, then you can get the maximum benefit from your Equestrian Athlete Plan.
The Importance of Eating Well For Energy and Endurance so that you can see how poor nutritional habits are affecting your performance on and off the horse and what you can do about it.
An Example 7 Day Meal Plan on the Hot to Trot Nutritional Plan to show you just how easy it can be to fuel yourself for your performance. This will show you how to eat consistently throughout the day to avoid the energy peaks and troughs you may have experienced previously.
A Step By Step Guide To Starting Your Exercise Programme, so that you can embark on getting your riding fit body without worrying about what it is you are supposed to be doing. The guidelines will leave you with a clear picture of what you should be doing.

Video Description Chapter of Exercise Guidelines, so that if you prefer to hear instructions rather than read them you don't miss out. In this audio, I will talk you through your programme structure to give you great clarity.
A Chapter On Time Management, so that you can see how this programme will fit into your life and how you can optimise every day to get all your jobs done with less stress allowing you to enjoy the process.

Optional Weekend Sessions For The Off Season, so that you use this programme both in the height of the season and in the off season to maximise your fitness all year round. This programme will not be like any other generic programme that didn't take into account your particular needs as an Equestrian Athlete.

A Shopping List is included within the nutritional plan, so that you can head to the shops with list of great, nutritious foods to keep you healthy from the inside out.

Optional Support Calls- so that if you feel you have specific needs or need just a little push in the right direction, you can opt for a call with me to make sure you stay on track or tweak the Equestrian Athlete Plan to suit your current situation. These can be arranged and last between 15 and 20 minutes.

An Insight Into Why Sit Ups Are Ruining Your Posture And Seat— so that you can fully understand why you need to avoid this exercise at all costs, to prevent back pain and maximise your riding experience and longevity in the saddle.