Get Google Places Page 1 ranking for businesses by accessing targeted & authoritative Citation Sites, using Google Local Citation Finder software.
Citations are the most important aspect of Google Places marketing & Place page promotion. By knowing which citation sites Google is accepting on place pages for target keywords, you can laser target citation sites & outrank competition - Can retrieve citation sites for all your keywords in one go - Perform unlimited searches for unlimited number of keywords - Unlimited niches and business categories.
Over 40 countries are currently supported and more countries can be added on request - Customizable control of search engine courtesy to avoid temporary IP bans or 503 errors - Get results in a matter of seconds - Choice of number of businesses to explore - Filter your results by keyword - Export results to CSV / excel for analysis - Fully integrated with Pack Finder - Skype and ticket based customer support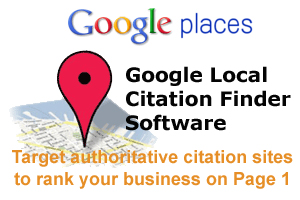 Countries currently supported in Google Local Citation Finder?
Currently, citation sites are extracted from over 40 Google countries in Google Local Citation Finder. The list of supported countries is as follows.
Australia
United States
United Kingdom
Ireland
India
Spain
Canada
New Zealand
France
Netherlands
Hong Kong
Thailand
Malaysia
Phillipines
Germany
South Africa
Indonesia
Pakistan
Finland
Norway
United Arab Emirates
Romania

Brazil
Italy
Vietnam
Turkey
Morocco
Bosnia
Algeria
Bolivia
Nicaragua
Peru
Singapore
Chile
Ukraine
Saudi Arabia
Latvia
Jamaica
Lithuania
Portugal
Sweden
Denmark, and
Belgium