Bounce Houses, Inflatable Games, Giant Slides and Water Slides For Sale- 707-622-5867- CALL NOW!!!

Commercial Grade Inflatable Games
Largest selection of bounce houses water slides and inflatables for sale!
Looking to buy a bounce house? Buy from an industry expert, buy from Bounce Time Inflatables! A leading manufacturer of commercial inflatables
We have both new and used equipment for sale. Custom orders of any size. Check our our website to see our current specials. Bounce Houses starting at only $1299 WOW!!!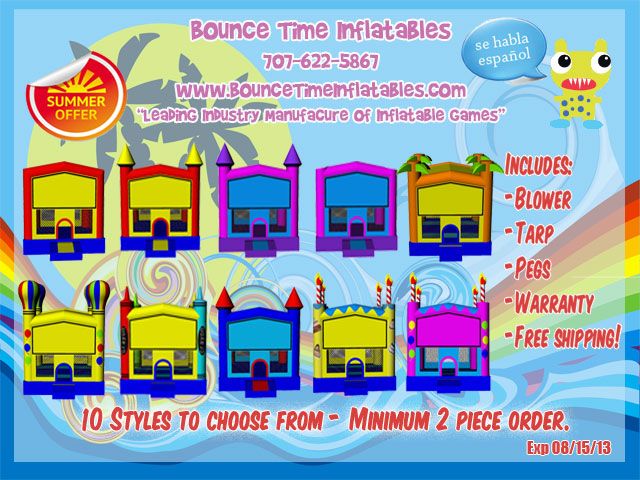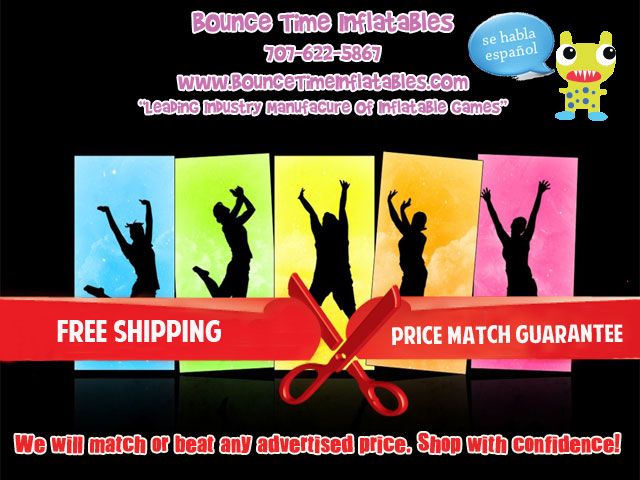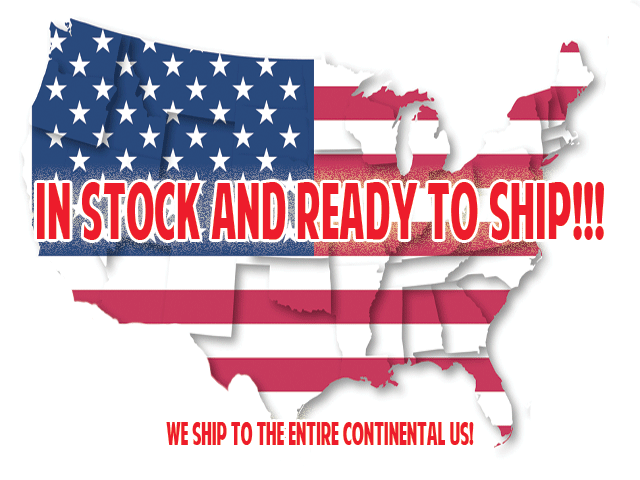 Looking to buy a bounce house? Buy from an industry expert, buy from Bounce Time Inflatables!

We have both new and used equipment for sale. Custom orders of any size. Check our our website to see our current specials. You can also pick up locally in the San Francisco Bay Area and save even more!

Bounce Houses starting at only $1299 and FREE SHIPPING WOW to anywhere in the US!!! Quanity Discounts availible.
www.bouncetimeinflatable.com

Call us if you have any questions or if you would like to start your own Party Rental biz we can help!

707-622-5867

We have Bouncers, Obstacle Courses, Waterslides, Boxing Rings, Sumo Suits, Giant Slides, Water Slides and MORE!!! Go to www.BounceTimeInflatable.com to check out our latest specials and all our Commercial Grade Inflatable Water Slides, Inflatable Bouncers, Inflatable Obstacle Courses, Inflatable Moonwalks and Inflatable Bouncy Houses on SALE!

We can even help you start your own party rental website and small biz...give us a call today!!

707-622-5867

Blower, Patch Kit & more with every Bounce House, water slide or other inflatable!
Unbeatable Quality at Unbeatable Price!
Our inflatables come with 1 year seam to seam warranty and 3 years prorated! (Including water units!)
Unbeatable Prices, Volume Discounts, Package Deals & more!

We use only 18.5 oz commercial grade vinyl of the most outstanding quality and heavy-duty nylon threads that are double and triple stitched which is why we offer a 1 year seam to seam warranty!

We also sell a full line of interactive inflatable games sure to make your Party Rental Biz a success:

Check out our selection of moon bouncers for sale on our website, http://www.bouncetimeinflatable.com/index.html , we have in stock a few dozen styles of inflatable bouncers and inflatable slides, in addition to innovative obstacles, combos and tents so you are sure to find something to meet your needs. Check out our selection of moon bouncers for sale! Find an inflatable moon bounce house, castle inflatable bouncer and other bounce house for sale. And even if you don't, we specialize in custom design and we love taking custom orders! Imagine being able to have an inflatable that no other rental company has... It certainly eliminates alot of the competition! That's what makes us Unique: The fact that we constantly strive to help our clients stand apart in a world of copy cats. Call us today and let us assist you in giving your clients a truly one of a kind experience that will keep the coming back for more, by giving the same to you...



Commercial Bounce House: A commercial bounce house is designed for children and adults alike. They are necessary if you intend on using in any commercial setting such as but not limited to an indoor party center, inflatable rental business, school, daycare, or church. Size, themes and designs vary depending on the specific inflatable you purchase. Jumpers are very popular in recently in Flordia and have proved to be a sucessful bounce house business for many of our clients. Places like Florida and New Mexico are often hot spots for jumper rentals becuase of the warm climent there.


In California Bounce House businesses are a really great way to earn extra money for you and your family. Jumpers usually pay for themselves within 2.5 months so you are able to increase your disposable income quickly while still being able to work your other local job in the San Francisco Bay Area. We are have warehouses in Vacaville and Sacramento so you know that in the event you have a repair issue we are only a short drive from any Northern California location.
Welcome to Bounce Time Inflatables, Inc. your premier resource for commercial inflatable bounce houses for sale and a wide range of other commercial interactive inflatables that will be sure to make your inflatable party rental business the best that it can be. Established in 2008, we are Northern California's leading manufacturer and supplier of commercial inflatable play structures -- such as inflatable bounce houses, inflatable obstacle courses, a wide variety of both inflatable water and dry slides, inflatable combo units, and any custom inflatable that you can imagaine for sale. If you can dream it we can build it. We are the only commercial inflatable manufacturer that offers online item tracking for any order placed with us, allowing you to follow the progress of your manufacture direct commerical inflatable order from its production to delivery at your businesses' door.
We also offer a variety of top-quality inflatable products suitable for indoor and outdoor use, including custom made, inflatable sports games, and obstacle courses. Find the perfect moon bounce or other commercial inflatable to help get your venture up and running..

Whether you are interested in supplying your business with superior-grade play equipment, purchasing moonwalks and similar products for private use or starting your own inflatable entertainment venture, Bounce Time Inflatables can meet your needs. We service hundreds of companies nationwide and possess the expertise you'll need to make your inflatable business a success. Make sure that your customers bounce around on the best inflatable equipment available. Ask us about starting your own party rental business or family entertainment center. Fun is our specialty!
Commercial Inflatable Bounce Houses (also known as Inflatable Moonwalks, Commercial Inflatable Bouncers, Jumpers, or Bouncy Castles)

Our inflatable bounce house and combos feature compelling, timeless designs and themes that will never go out of fashion. Unlike the standard a-frame castle bouncers offered for sale by other manufacturers, our inflatable bounce houses show off innovative designs that will attract attention from the whole neighborhood.
Commercial Inflatable Slides & Inflatable Water Slides are very popular in Arizona, but also in many other places such as Flordia, California and even Georgia. Bounce Time Inflatables pride ourselves on having state of the art and creative inflatable slides and water slides offered for sale by any manufacturer anywhere in California and for that matter anywhere period. No other manufacturer in Nevada can offer the host of other attention-grabbing inflatable slides like the ones you see in Texas that will have cars stopping on the street to gawk- We can build anything you can dream- Just ask some of our best customers in Florida. Just call us and we will have our designer talk to you and create what you never imagined possible! We literally redefined what an inflatable slide could be, and continue to lead the inflatable industry. Whether you're looking for a dry inflatable slide or a water slide, we have it all. Of course no large event would be complete without an inflatable obstacle course. Our inflatable obstacle courses come in all sizes and configurations, to meet the needs of any rental occasion or indoor facility. If you can dream it, we can do it. Whether you're looking for inflatable product replicas, sports inflatables, money machines, or anything else you can dream up, Bounce Time Inflatables has more the necessary experience with custom inflatables, as a top quality manufacturer in this industry we will make sure you an inflatable to drive your goaled results. If you want to rent any of our inflatable bounce houses or slides, please visit www.BounceTimePartyRental.com where you can see pictures, prices and book your party reservations on-line.