Speedway RV Rental Infield Packages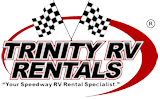 Unlike a typical RV rental company, at Trinity RV Rentals, we offer "All Inclusive Speedway RV Rental Packages". We will deliver your Motorhome or a Custom Entertainment Trailer of your choice to the actual Speedway property. We conduct all infield set-up and take-down functions on our site or your site. All diesel fuel, gas, propane, generator usage, chairs, patio carpets, tables, gas grills, utensils, TV'S, coolers, sheets, blankets, pillows, towels, are all included in our rental rate packages. We do not have a long list of unknown charges for each amenity like some RV rental companies. The only additional items we will ask you to purchase are your infield admission tickets, food and drinks and leave just about all the other rental details to us.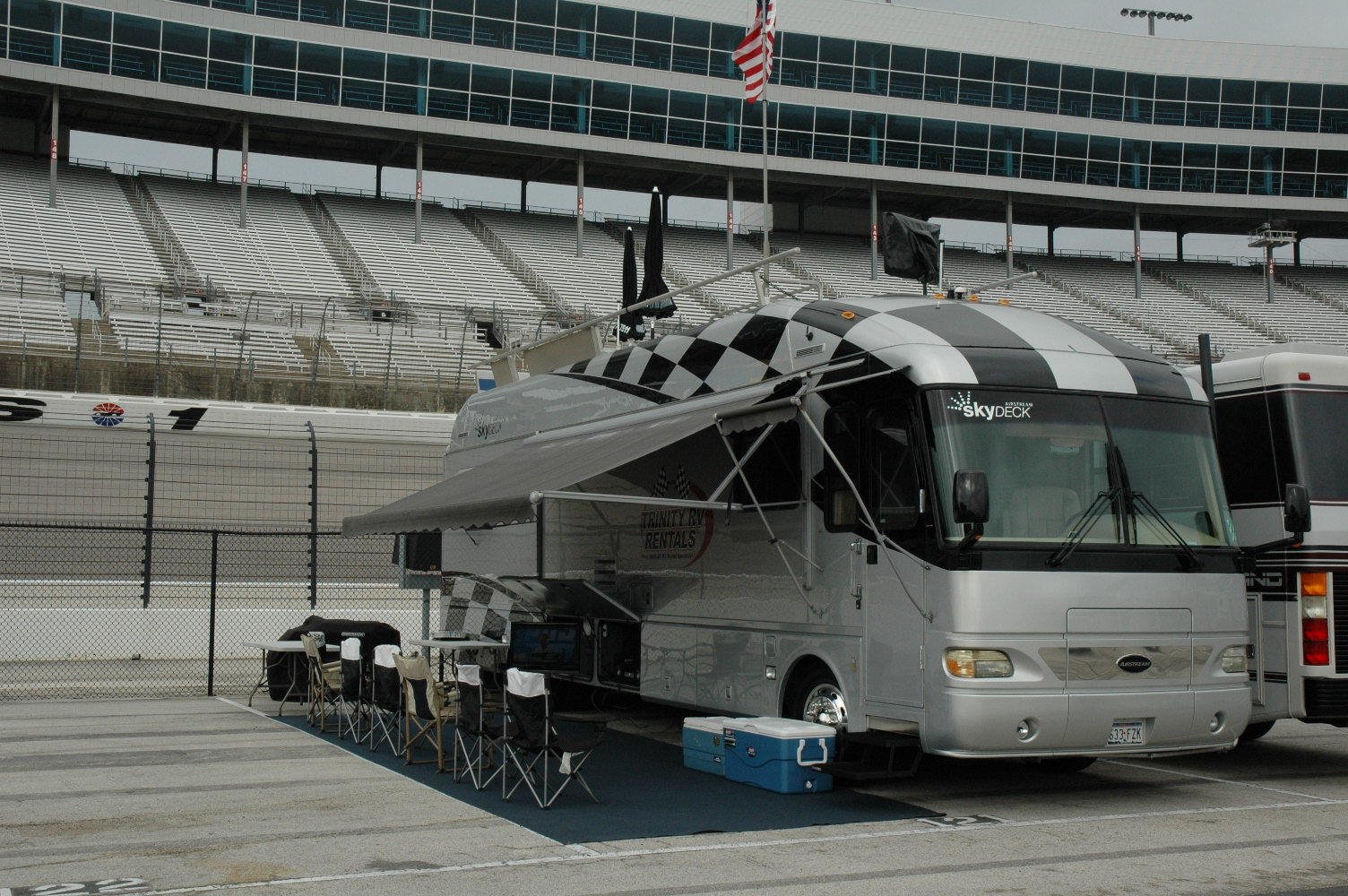 Another significant advantage that we offer at Trinity RV Rentals versus our competition is that we have some of the most innovative motorhomes in the Speedway rental business - the Airstream Skydeck. No other Motorhome will offer you roof-top cushioned seating, numerous amenities and safe viewing pleasure. In addition to our Airstream Skydecks, we have other luxury Motorhome rentals with professionally installed roof-top viewing platforms. Our viewing platforms are designed to give you maximum viewing potential with safe entry and exit choices. Many of our competitor rental companies do not have viewing platforms on their Motorhomes. You should always check to make sure a safe roof-top platform option is available on your next Motorhome Speedway rental. Standing on the motorhome roof on a windy day is not considered a safe viewing option.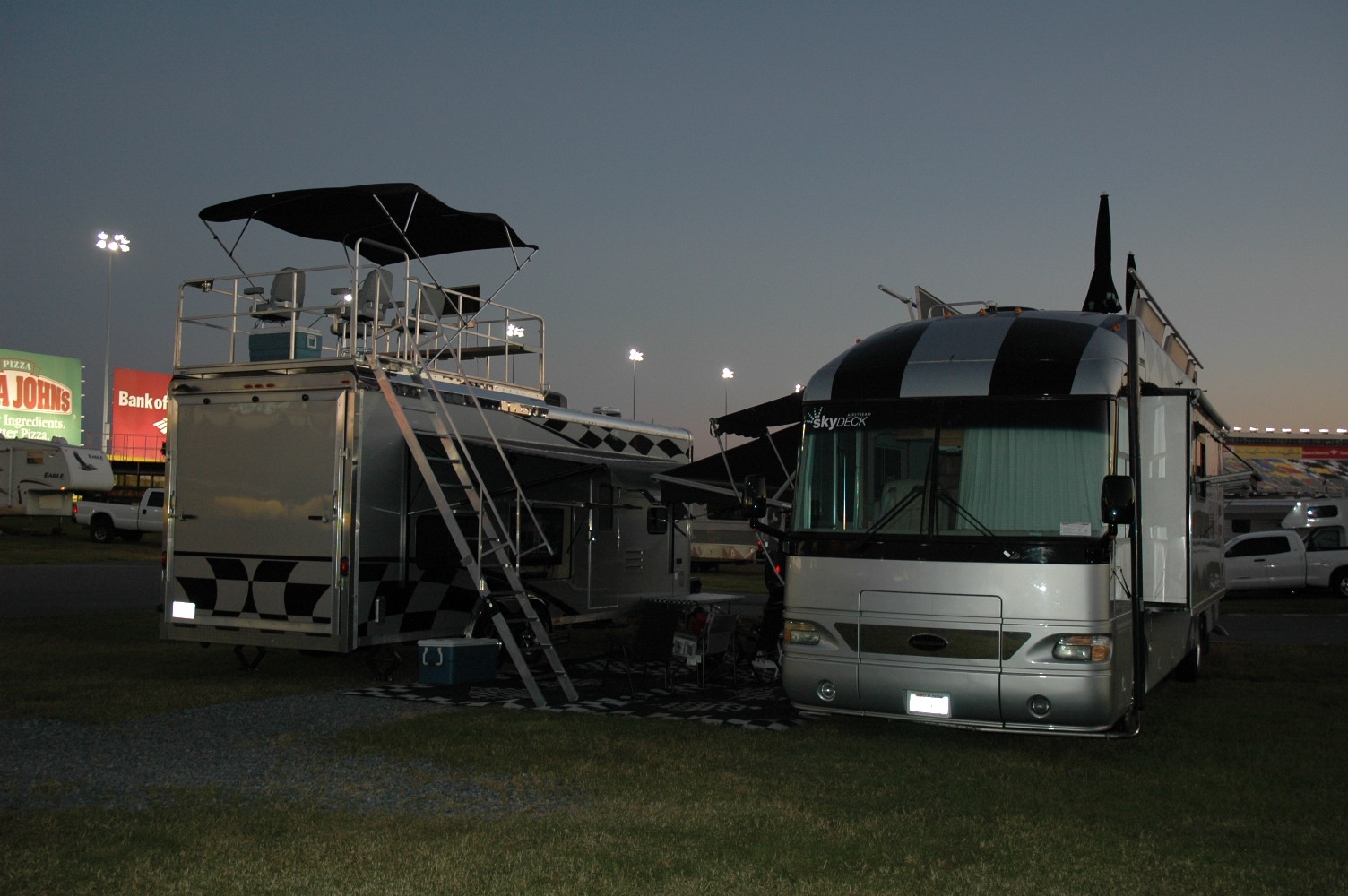 Our Speedway packages also include a prime infield camping site. The majority of our camping sites are infield "Wall" sites with outstanding views of the cars and drivers. It took us over 10 years and hundreds of upgrades to acquire these camping sites. Many of our competitors do not offer camping sites with their rental packages. If they do offer campsites, it's always a good idea to ask about the general location of the campsite and I would not consider a good location being in the middle of the infield. You may never see a race car your entire stay.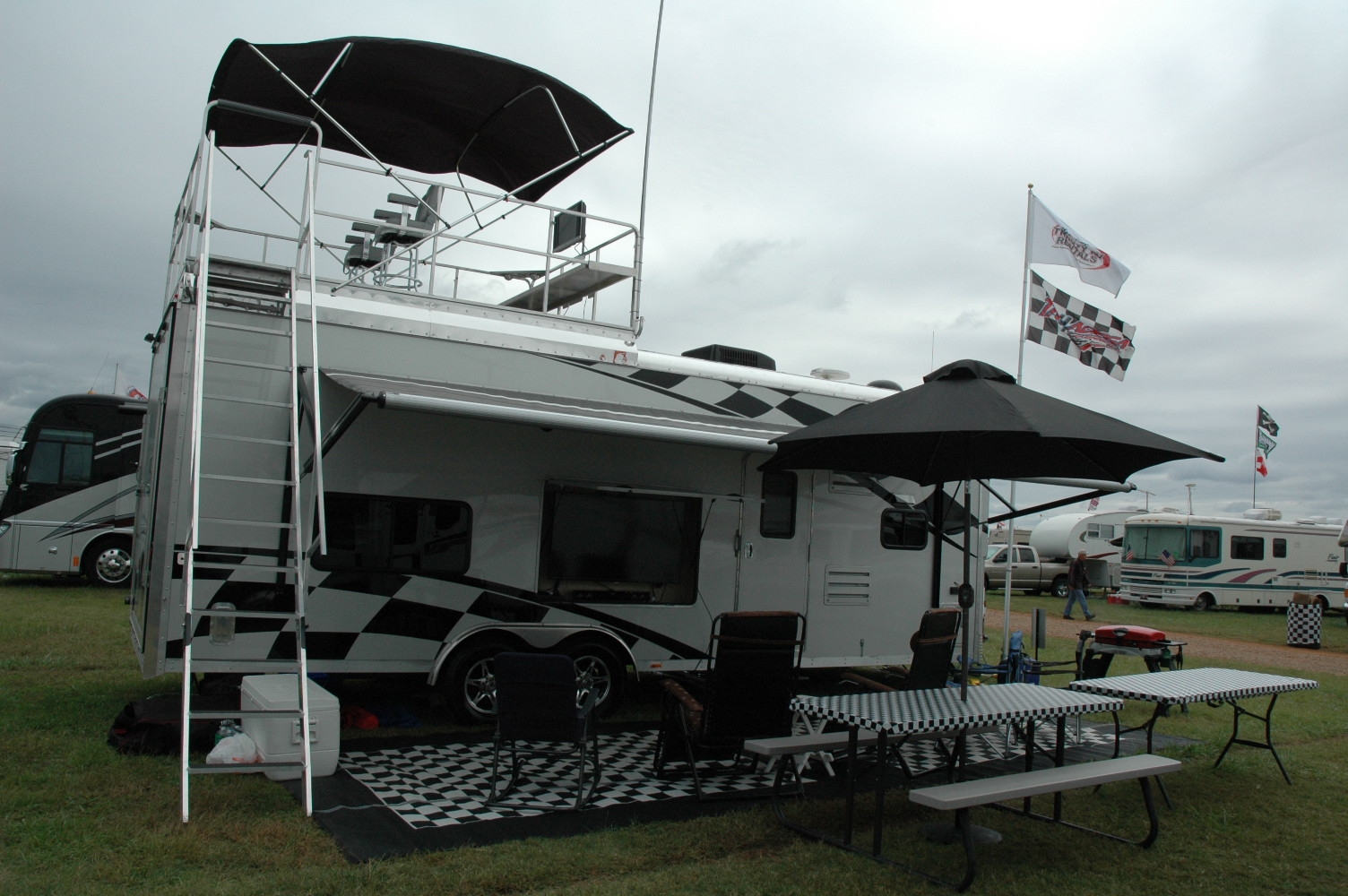 New for 2013, our Custom Entertainment Trailer packages will have a custom roof-top viewing platform with safe entry and departure stairs. For your convenience and weather protection, all trailer viewing platforms will have Bimini tops, coolers, drink holders, swivel chairs and a large LCD TV. Amenities inside our Custom Entertainment Trailers include, Heat and AC, large refrigerator/freezer, full galley with stove and microwave, full bath with large shower and sink, 6 individual bunk beds, fresh bedding, security lockers, coffee maker and a 40" LCD TV. Outside amenities include a 55" LCD TV inside the TV door, Samsung Stereo sound system, patio carpets, a picnic table, gas grill, utensils, 6 chairs, one large table and a large cooler. We also provide Direct TV with each Speedway rental.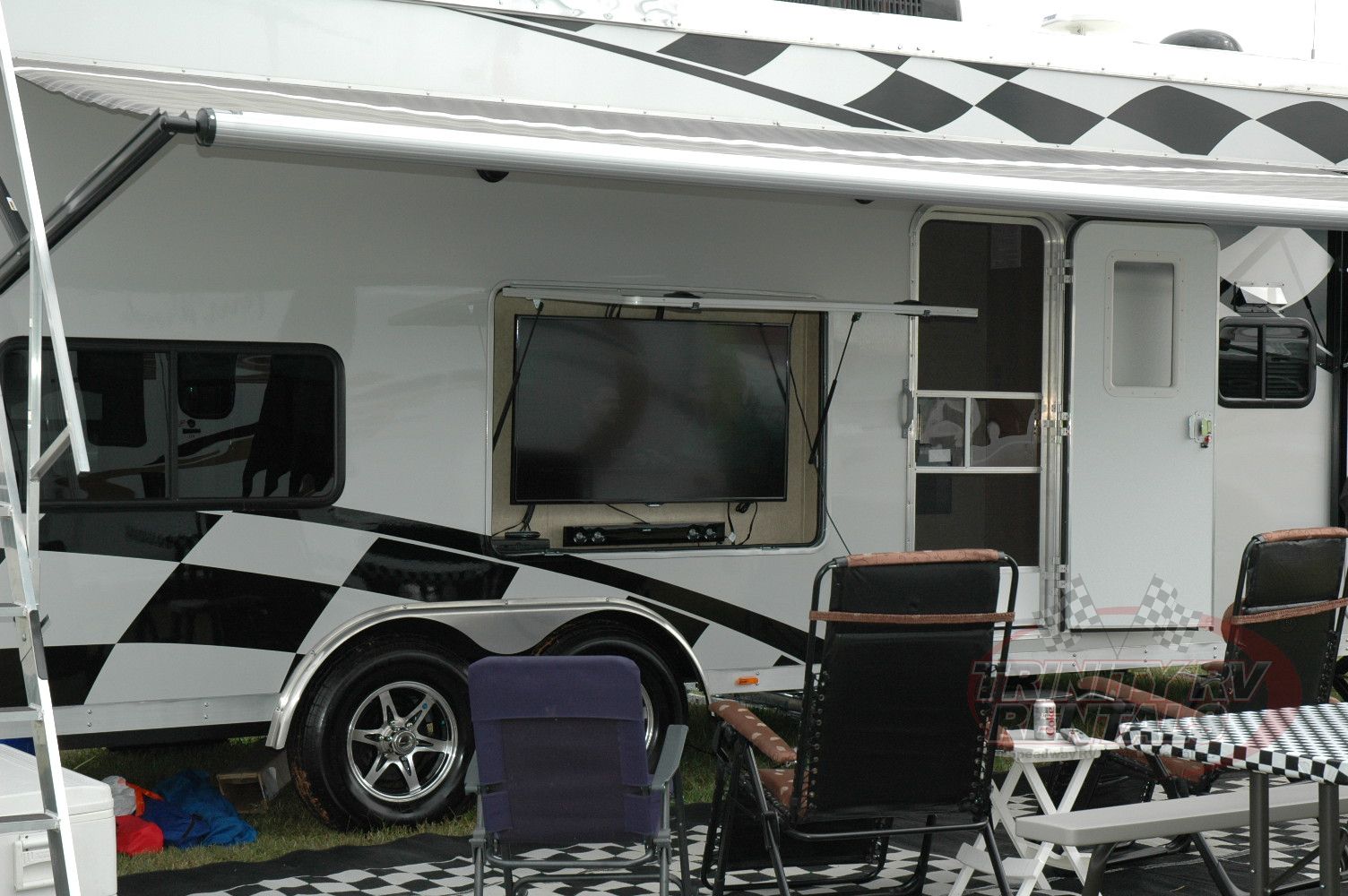 Custom Entertainment Trailer rental packages are now available. If you thought a Luxury Motorhome rental was out of your price range, then this may be a perfect rental choice for you and your family or friends. If you have a special event or Speedway you would like to go to now, just email us at info@trinityrvrentals.com and we will send you a quote ASAP!
We specialize in SPEEDWAY RV RENTAL PACKAGES. Feel free to call us at 800-917-7511 regarding any of the above rental details.
Call: Trinity RV Rentals, LLC

Phone: 800-917-7511
Email: info@trinityrvrentals.com
Website: www.trinityrvrentals.com
IT JUST WON'T GET ANY BETTER THAN THIS!