Christmas, wedding, birthday, christening, important event coming up?

Imagine giving to someone the Gift of a Scottish Estate - and the legitimate title of "Lord"or "Lady" that comes with being a Land Owner in the Highlands of Scotland.
Yes you can do that!
Imagine how the newly-weds, birthday boy or girl, comer of age, or other friends and family will fondly think of you when they travel to the Highlands of Scotland, stand on their very own Scottish Estate, and snap photos they'll share excitedly for the rest of their lives. They might even take a tent with them, stay a few days, and enjoy the incredible views and walking trails - maybe even fish in the nearby loch.


Regardless of the age of the Land Owner, Scots around the Estate will treat them with the respect their ancient Title commands. Surely those you give to will return from the Highlands one day with memories to treasure, ponder fondly upon for the rest of their lives, and photos to share, maybe even on Facebook.
And imagine how they'll feel when back home they walk in to an event and are proudly announced legitimately as "Lord and Lady So and So" owners of an Estate in Scotland.
All that you can give for just $225!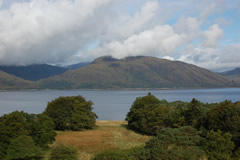 http://www.sunspringproperties.com/scotland.html