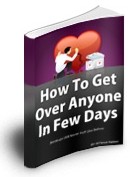 How to get over anyone in few days
(Breakups will never hurt like before)
This book is a 100 percent guarantee that you will get over any person, if the
book didn't work you will be refunded your money back. All you have to do is read the book well; apply what's written in it exactly. If nothing changed I will gladlyrefund your money back. Again I am proudly repeating it, it's a 100% guarantee that you will recover, not 99 nor 98 or 97 read more...

The Ultimate guide to Getting over depression,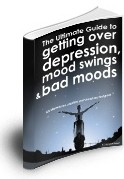 mood swings & bad moods
Be a positive thinker
Become more optimistic
Do something new or travel somewhere
Talk to a close friend
You heard them all
You applied them all and they all didn't work
If this book didn't help you feel better ask for your money back. By buying it now you will either get a mood improvement or your money. Personally I believe that this is the only depression book being sold that offers a full money back guarantee. read more...
Deal with Depression and breakups together Pay 33 USD only for these two books
2KNOW MYSELF