High Iq Pro Is The Only Scientifically Proven Iq Increasing Software. Improve Your Iq By 10-20 Points. Brain Training Software In Multiple Languages, For Mensa, Exams, Cognitive Performance, And Fun.
Software Specifications
State of the art Adobe AIR interface, compatible with all operating systems – including Windows, Mac & Linux.
Unlimited profile databases.
English, German, Italian and Spanish language options for audio stimuli.
Audio, Visual (practice) and Dual (audio plus visual) modes.
Letters and numbers options for audio mode.
20 block, 10/10, and 10 block modes – allowing your training program to match your schedule and concentration levels.
Error feedback option.
Presentation speed setting options: 3 seconds (original Jaeggi et al study setting) or 1.5 seconds (rapid presentation for a more challenging task).
Color coded training levels, with each color indexing a different working memory capacity level.
Clear performance feedback – both graphical and numerical – accessible at any period during training.
Integrated links to on-line resources, including extensive Help information.
Cutting edge IQ science blog feeds and a Facebook online community.
24 hour IQ and software related support from scientific professionals.
Money back IQ increase guarantee: 10-20 points on a validated IQ test, and >40% short term memory gain.
Suitable for 15 years and above.
How does High IQ Pro® compare to other brain training software on the market?
While scientists are involved in the development teams of some of the better known brain training companies, if you investigate the you will discover that these companies are founded and headed by business men with no expertise in brain science or brain training.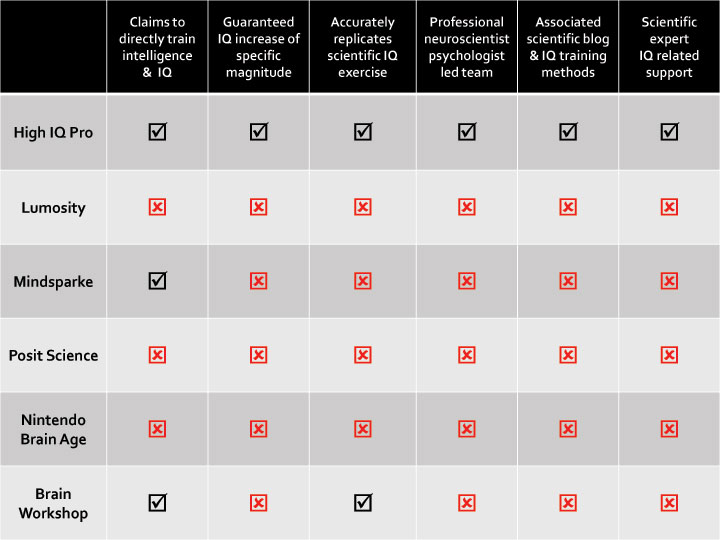 ..
Software Requirements
The High IQ Pro® software application runs on Adobe AIR and has the following system requirements.
WINDOWS
Intel® Pentium® III 1GHz or faster processor, 512MB of RAM
Recommended: Pentium 4 2GHZ or faster, 1GB RAM
Windows 7, Windows Vista® Home Premium, Business, Ultimate, or Enterprise including 64 bit editions, Windows Vista SP1, Windows XP Tablet PC Edition SP2 and SP3, Windows XP SP2 and SP3, Windows 2000 SP4, Windows 2003 Server
MAC OS X
Intel Core™ Duo 1.83GHz or faster processor; PowerPC® G4 1GHz or faster processor
Mac OS X 10.4.11 or Mac OS X 10.5.4, 10.5.5, and 10.6
512MB of RAM
LINUX
Intel® Pentium® III 1GHz or faster processor, 512MB of RAM
Recommended: Pentium 4 2GHZ or faster, 1GB RAM
Fedora 8 and later, Ubuntu 7.10 and later, OpenSuse 10.3 and later
xterm should be present on the system
…
Order your High IQ Pro® instant download here


.
Single User IQ Increase License:
$34.99

Education Tools >>> http://cbproads.com/sf.asp?id=405042&subcat=3642