Learn How to Format Your eBook Free
Click Here for Your Free Style Guide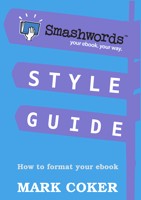 Simple, Free, Step-by-Step Guide for Publishing Quality eBooks Online
The Smashwords Style Guide has helped thousands of authors produce and publish high-quality ebooks. This free guide offers simple step-by-step instructions to create, format and publish an ebook.
It's required reading for any author who wants to distribute their book via Smashwords to major ebook retailers such as the Apple iBookstore, Barnes & Noble, Sony, Kobo and Diesel. Rev: August 3, 2011
It also provides a great primer introduction on ebook publishing. Over 100,000 copies downloaded!

Don't pay hundreds or thousands of dollars to get your ebook formatted for publication. DIY, Do It Yourself with this complete step-by-step guide to
formating your ebook.
Getting Started

Pre Prep

Formatting

Navigation

Font Matters

Post-Formatting

Helpful Resources
When you finish the Smashwords Style Guide you will know how to write and format an ebook for publication.
This guide on how to format your ebook is indispensible!
Get this Simple, Free, Step-by-Step Guide for Publishing Quality eBooks Online
Learn How to Format Your eBook Free