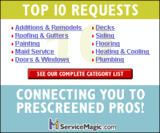 How To Choose a Good Home Repair Company? If you have a home repair or remodeling project, you have a lot of choices these days when it comes to shopping and comparing contractors and service providers. The Internet age now gives consumers the power to fully research companies and read reviews from other nearby consumers before making a decision on which company to hire.
Their are two major players in this market include Angie's List and ServiceMagic. Although these two home repair companies do provide similar services, there are a lot of differences to consider. Before we dive in too far, let's take a look at both companies.
First off is Angie's List. It is a membership site that charges the consumer a monthly or annual fee to gain access to direct feedback on companies from other homeowners or consumers in the local area. The editors of the website work hard to ensure that all reviews are accurate, fair and from real consumers.
Angie's List currently contains home repair companies in a very broad array of industries ranging from roofers to day cares to doctors and dentists. The positives for this service is that the database is massive and the real life reviews from other local customers is great. The negative is you have to pay that monthly or annual fee, although it is typically pretty minimal but differs based on where you live.
ServiceMagic, on the other hand, is completely free to the consumer. It makes its money by charging the actual contractors for referrals to consumers. It also has a customer review component, although it may not be as in-depth as the one provided by Angie's List. If you need to hire a service provider tomorrow and you do not want to do the background work first, this is the best option.
You simply provide information for your project, and ServiceMagic matches up to four pre-qualified and pre-screened home repair companies for your project. The positives for this service is that you put the burden on the contractor to get in touch with you and you are assured that the contractors meet ServiceMagic's rigorous contractor screening process. The negative is that you may be bombarded with phone calls and solicitations from local companies after submitting your project.
So which is better - Angie's List or ServiceMagic?
That really depends on your needs. If you want access to tons of comprehensive reviews from other consumers in your local area for just about every contractor in your area, then a membership to Angie's List may be for you. Conversely, if you prefer to submit your project, then sit back and wait for the contractor or service provider to contact you then ServiceMagic is the better choice.
Many consumers actually choose to use both services when shopping for the right contractor. You can use ServiceMagic to get the process started and begin interviewing companies then get a membership to Angie's List to compare and contrast the home repair companies you are seriously considering
Get matched to pre-screened home improvement contractors in your area! Take advantage of the large amount of government stimulus money for weatherizing homes across the country.
For More Info Click now="==>" Home Repair Company