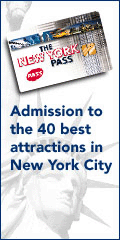 *The NYC Pass Saves You $$$ At The ...*
-->Weeksville Heritage Center <--
How Much Will You Save At This Attraction?
Top 4 Reasons To Get a New York Pass

1. Free Entry To Over 55 Attractions (More...)


2. No Waiting - Skip Lines (More...)


3. Free 160+ Page Guidebook (More...)


4. $800 Worth of Value (More...)

Attraction Info
Situated on the site of a National Science Foundation archaeological dig in 1970 and 1971, the Weeksville Heritage Center is a prime attraction to uncover African American history in New York City. Weeksville was a 19th century African American community and the Hunterfly Road Houses are the only surviving structures of the time. All of the houses have been restored to the way they looked during Weeksville's heyday and they are all part of the National Historic Register. The center was developed to help preserve, educate and entertain visitors of all ages in all aspects of African American life during the 19th and 20th centuries and visitors will be able to hear music from the time period, taking walking tours of the area and engage in other programs.

The center's collection is made up of around 450 items ranging from tools to furniture of the time. The artifacts fall into items that were found during the dig at the site and items that have been put into the exhibits to help show how people lived. Household appliances, musical instruments, clothing, books, art and tools are all on display for visitors to enjoy.