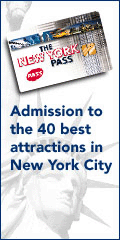 *The NYC Pass Saves You $$$ At The ...*
-->Studio Museum in Harlem <--
How Much Will You Save At This Attraction?
Top 4 Reasons To Get a New York Pass

1. Free Entry To Over 55 Attractions (More...)


2. No Waiting - Skip Lines (More...)


3. Free 160+ Page Guidebook (More...)


4. $800 Worth of Value (More...)

Attraction Info
Situated in Harlem, the Studio Museum in Harlem is a contemporary art museum that showcases the artwork of African-Americans. The pieces in the collection are from local artists as well as nation and global figures in addition to pieces that have been influenced by the culture of the African-American community. The museum offers visitors a unique resource in its archival collection, research facility and public programming that is educational as well as entertaining. It also has a unique Artists in Residence program and offers a look at historical issues that have been covered throughout America's history through the eyes of artists of African descent.

There are currently over 1,600 pieces of artwork in the Studio Museum in Harlem's permanent collection. These pieces include pastels, photos, prints, drawings, installation and mixed media works, many of which were done during the residency of artists who utilized the facility. There are also many pieces on display that were donated to the museum to fill out the historical aspect of the work there. The museum is the home of the extensive archive of photographer James VanDerZee who is known for his work as Harlem's chronicler from 1906 to 1983.