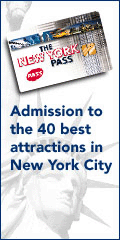 *The NYC Pass Saves You $$$ At The ...*
-->Statue of Liberty and Immigration Museum Ferry<--
How Much Will You Save At This Attraction?
Top 4 Reasons To Get a New York Pass

1. Free Entry To Over 55 Attractions (More...)


2. No Waiting - Skip Lines (More...)


3. Free 160+ Page Guidebook (More...)


4. $800 Worth of Value (More...)

Attraction Info
Almost every school child in New York State has visited the Statue of Liberty, but if you have never been to the city then you need to visit the Statue and the Ellis Island Immigration Museum. Both attractions are a short ferry trip from Battery Park and both are filled with historical galleries and halls with information and exhibits on the over 12 million immigrants that came to the United States. In order to visit the inside of the Statue you must make advance reservations.

Ellis Island Immigration Museum was opened on September 10, 1990 after the installation had been abandoned for 30 years. It was the first federal immigration station in the country and was originally open in 1892. By the time it closed in 1954 over 12 million immigrants had been processed through the station. It is estimated that over 40 percent of Americans can trace their history through the immigration center at Ellis Island. Visitors can research their ancestry at the island or through the island's online immigration archives for more information.