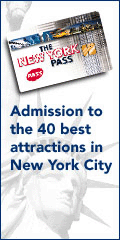 *The NYC Pass Saves You $$$ At The ...*
-->Staten Island Botanical Garden <--
How Much Will You Save At This Attraction?
Top 4 Reasons To Get a New York Pass

1. Free Entry To Over 55 Attractions (More...)


2. No Waiting - Skip Lines (More...)


3. Free 160+ Page Guidebook (More...)


4. $800 Worth of Value (More...)

Attraction Info
Located in the Snug Harbor Cultural Center, the Staten Island Botanical Gardens offer visitors 53 acres of natural woods with more than 20 different types of gardens to explore. It is the home of the first Ming era Chinese Scholar's Garden that includes 18th and 19th century Chinese furniture, the first in the United States as well as Connie Gretz Secret Garden complete with its own castle, maze garden and moat. With butterfly gardens, herb gardens, various flower gardens, a farm with a barn and rose garden, the Staten Island Botanical Garden is a wonderful place to relax and meander through.

The garden was founded in 1977 and is dedicated to offering educational opportunities to children of all ages. The staff at the garden offer classes in history, art and horticulture, combining the three to give the student a unique learning environment. One of the most additions to the gardens is the Garden of Healing. It was developed as a memorial to the World Trade Center and is part of the World Trade Center Educational Tribute.