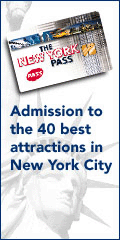 *The NYC Pass Saves You $$$ At The ...*
-->Queens Zoo <--
How Much Will You Save At This Attraction?
Top 4 Reasons To Get a New York Pass

1. Free Entry To Over 55 Attractions (More...)


2. No Waiting - Skip Lines (More...)


3. Free 160+ Page Guidebook (More...)


4. $800 Worth of Value (More...)

Attraction Info
Situated on 12 acres in Flushing Meadows Corona Park, the Queens Zoo is a small piece of wilderness in the heart of New York City. It is the home of 70 different species of animals that are able to roam in habitats that are close to their native lands in North and South America. As visitors walk through the wooded paths that criss cross the zoo they can come face to face with bison, mountain lions and spectacled bears resting in the trees. There is also a barnyard area where children of all ages can feed the animals.

The Queens Zoo has a variety of different exhibits including an extensive aviary that includes ducks and eagles, a sea lion exhibit, and a variety of trails that display animals from different regions of the Americas. The domestic animal yard offers visitors lectures and interaction with pets and how taking care of them helps the wild animals of the world survive. From lynx to wolf to bear, everyone will love the animals that are on display at the Queens Zoo.