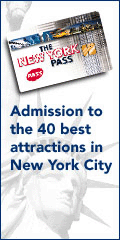 *The NYC Pass Saves You $$$ At The ...*
-->Paley Center for Media <--
How Much Will You Save At This Attraction?
Top 4 Reasons To Get a New York Pass

1. Free Entry To Over 55 Attractions (More...)


2. No Waiting - Skip Lines (More...)


3. Free 160+ Page Guidebook (More...)


4. $800 Worth of Value (More...)

Attraction Info
If you are a television aficionado then you do not want to miss the Paley Center for Media. This unique museum holds a collection of over 100,000 radio and television programs from the 1920 through today. Some of the most well known advertisements are also held in the center's permanent collection. In addition to the establishment in New York City, there is a Paley Center for Media in Los Angeles for visitors to enjoy.

Visitors to the center can enjoy watching or listening to the many television or radio programs the center has archived in its collection for up to two hours at individual consoles. Younger visitors can experience shows that their parents grew up with, such as classic episodes of the Jack Benny show and the Ed Sullivan show. Or they can watch the first moon walk and experience the thrill of that day. Television shows such as I Love Lucy? M*A*S*H and The Sopranos are also available at the center. Visitors can also leave their mark on the center by submitting comments to the program they have enjoyed.