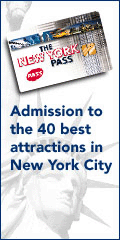 *The NYC Pass Saves You $$$ At The ...*
-->New York City Police Museum <--
How Much Will You Save At This Attraction?
Top 4 Reasons To Get a New York Pass

1. Free Entry To Over 55 Attractions (More...)


2. No Waiting - Skip Lines (More...)


3. Free 160+ Page Guidebook (More...)


4. $800 Worth of Value (More...)

Attraction Info
Dedicated to the tireless men and women of the most famous police force in the entire world, the New York City Police Museum is a rich and exciting attraction. It is located in the NYPD's first precinct station house, a historic building that offers visitors a glimpse into the life and times of these public servants. The NYPD has an extensive history that is laid in the museum highlighting the agencies unique challenges since its inception in keeping the streets of New York City safe. It is a firsthand look into the way the agency works today with its force of close to 40,000 officers. With interactive exhibits that include officers on active duty, the museum is appealing to everyone.

One of the most compelling and solemn exhibits in the New York City Police Museum is the 9/11 tribute that memorializes the officers that worked the streets after the attack and the 23 members of the NYPD that lost their lives that day. The new Policing A Changed City exhibit features the way the agency has changed since the 9/11 attacks and the Hall of Heroes offers visitors a look at all of the men and women who have lost their lives in the line of duty.