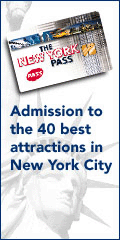 *The NYC Pass Saves You $$$ At The ...*
-->New York Botanical Garden <--
How Much Will You Save At This Attraction?
Top 4 Reasons To Get a New York Pass

1. Free Entry To Over 55 Attractions (More...)


2. No Waiting - Skip Lines (More...)


3. Free 160+ Page Guidebook (More...)


4. $800 Worth of Value (More...)

Attraction Info
With 50 acres of historical forest located in the heart of New York City, the New York Botanical Gardens is one of the United States premier public gardens. The gardens take up 250 acres and include 48 smaller gardens and plant collections within its borders. Peggy Rockefeller Rose Garden offers visitors some of the most beautiful rose bushes in the country and the Enid A. Haupt Conservatory is the largest Victorian glass house in the United States. One of the gardens features a cascading waterfall and the Bronx River and there are many beautifully landscaped areas filled with conifers, daylilies and flowering trees.

The Everett Children's Adventure Garden offers visitors between the ages of two and twelve over 40 hands on activities to enjoy. There are mazes of plants and boulders for children to enjoy, a touch tank that allows them to explore water loving plants, and indoor laboratory for experiments and more flower and plant activities to try. The Children's Garden is an interactive respite for children who are interested in having fun while learning more about the plant life that surrounds them.