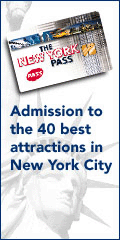 *The NYC Pass Saves You $$$ At The ...*
-->Museum of Sex <--
How Much Will You Save At This Attraction?
Top 4 Reasons To Get a New York Pass

1. Free Entry To Over 55 Attractions (More...)


2. No Waiting - Skip Lines (More...)


3. Free 160+ Page Guidebook (More...)


4. $800 Worth of Value (More...)

Attraction Info
Only in New York City can you find a museum dedicated to sex. Opened in 2002, the Museum of Sex is a unique look at the history, evolution, and cultural significance of the human sexual experience. It is an adult oriented museum that encourages open conversation and exchange on the topic of sex and it include 25,000 items in its permanent exhibits to view and learn about. Currently there are 14 main exhibitions and 5 virtual installations for visitors to enjoy in addition to lecture series, publications, and events.

Within the museum's collection visitors will find works of art, clothing, technological inventions, photography, costumes, and other historical items that revolve around sex and how it has played a part in society's life. There is an extensive research and multi-media library in the museum, many items of which are rate and at one point would have been destroyed because of their nature and topic. The building that houses the museum was built in the area of the city that was once known as the Tenderloin. This district is a fitting place for this type of museum as it was once the home of 19th century dance halls, theaters, saloons and bordellos.