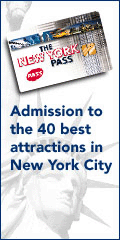 *The NYC Pass Saves You $$$ At The ...*
-->Museum of the Moving Image <--

How Much Will You Save At This Attraction?
Top 4 Reasons To Get a New York Pass

1. Free Entry To Over 55 Attractions (More...)


2. No Waiting - Skip Lines (More...)


3. Free 160+ Page Guidebook (More...)


4. $800 Worth of Value (More...)

Attraction Info
Devoted solely to the history, art and craft of the moving image namely in television, movies and digital media, the Museum of the Moving Image is the only one of its kind in the United States. The main exhibit, Behind the Screen, explains to visitors how movies and moving images are made from the very first image to what we see on the screen today. It also goes into the marketing aspects of moving images and how they are displayed. Complete with interactive exhibits, visitors to the museum can enjoy making their own animations and flipbooks that include sound effects and pictures of themselves.

The second main exhibit, Digital Play: Reloaded, offers visitors a look into the creation of video games and the art that goes into them. It demonstrates how video games were born and have influenced life over the last 25 years.

The Museum is housed in the old Astoria Studio, which was one of the biggest movie and television studios in the United States. It is on the list of the National Register of Historic Places and in 1988 was opened to the public. In 2006 it was given accreditation from the American Association of Museums.