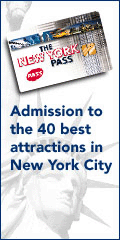 *The NYC Pass Saves You $$$ At The ...*
-->Malcolm X & Dr. Betty Shabazz Memorial <--
How Much Will You Save At This Attraction?
Top 4 Reasons To Get a New York Pass

1. Free Entry To Over 55 Attractions (More...)


2. No Waiting - Skip Lines (More...)


3. Free 160+ Page Guidebook (More...)


4. $800 Worth of Value (More...)

Attraction Info
Located in the old Audubon Ballroom, the Malcolm X & Dr. Betty Shabazz Memorial, Educational and Cultural Center is a 6,000 square foot facility celebrating the life of El Hajj Malik El Shabazz ?better known as Malcolm X. The civil and rights advocate memorial center was opened in 1995 in by Malcolm X's widow, Dr. Betty Shabazz in an effort to permit the work of her husband to live on and to help forward his cause well into the 21st century. With six touch tone screens that offer visitors interactive information on Malcolm X and his wife, the center also displays public art works, offers film screenings, book signings, exhibitions, musical performances and panel discussions to the public.

Dr. Shabazz engineered an agreement between Columbia University and the Economic Development Corporation City of New York to get the center founded. She had the backing of the community and 40% of the original ballroom is still in existence as per the agreement. The interactive multi-media were designed by Columbia University and the works of Colin Chase, Daniel Galvez and Gabriel Koren are part of the center's permanent art collection.