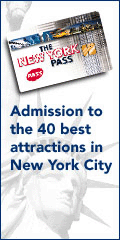 *The NYC Pass Saves You $$$ At The ...*
-->Intrepid Sea, Air & Space Museum <--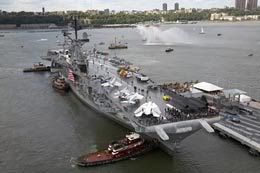 How Much Will You Save At This Attraction?
Top 4 Reasons To Get a New York Pass

1. Free Entry To Over 55 Attractions (More...)


2. No Waiting - Skip Lines (More...)


3. Free 160+ Page Guidebook (More...)


4. $800 Worth of Value (More...)

Attraction Info
Step back in time and take a look at what made the American Navy the power of the seas between 1943 and 1974 in this unique museum. Set on board the decommissioned USS Intrepid, the museum features interactive exhibits as well as virtual exhibits that chronicle life in the Navy. With 30 restored aircraft, the decommissioned USS Growler submarine, and the now retired British Airways Concorde super jet, the museum is an interesting and exciting treat for everyone.

Many of the exhibits include artifacts that document the history of the Intrepid. Many of the items include personal memorabilia donated to the museum by the crewmen and captains that had the honor to serve on the ship. Photos, manuscripts, medals, letters, certificates, and more give visitors a taste of what the brave men and women went through on a day by day basis during wartime and peace. There is also a large collection of naval uniforms on display as well as gear, equipment and aircraft, many of which are associated with the Intrepid service during World War II.