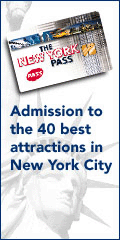 *The NYC Pass Saves You $$$ At The ...*
-->Hispanic Society of America <--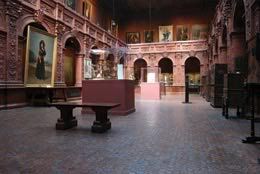 How Much Will You Save At This Attraction?
Top 4 Reasons To Get a New York Pass

1. Free Entry To Over 55 Attractions (More...)


2. No Waiting - Skip Lines (More...)


3. Free 160+ Page Guidebook (More...)


4. $800 Worth of Value (More...)

Attraction Info
Found in 1904 by Archer M. Huntington, the Hispanic Society of America is a free public museum and reference library that is dedicated solely to the culture of Latin America, Spain, Portugal, and the Iberian Peninsula. Visitors to this beautiful museum will discover everything they have ever wanted to know about all aspects of culture in these areas. There are currently over 800 paintings and 6,000 drawings and watercolors by Hispanic artists in the museum ranging from the Bronze Age to today. Some of the art housed here are by well-known painters such as Goya, El Greco and Velazquez.

In addition to paintings there are close to 1,000 pieces of sculpture, examples of textiles, close to 15,000 prints that are from the 17th to early 20th centuries, decorative art examples and over 250,000 research texts and manuscripts that are of interest to researchers into the Hispanic culture. There are also over 175,000 photographs housed in the museum that date back to 1850 showing the customs, culture, art, and clothing of Latin America and Spain, and the people that have lived there.