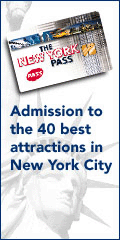 *The NYC Pass Saves You $$$ At The ...*
-->Empire State Building Observation Deck <--
How Much Will You Save At This Attraction?
Top 4 Reasons To Get a New York Pass

1. Free Entry To Over 55 Attractions (More...)


2. No Waiting - Skip Lines (More...)


3. Free 160+ Page Guidebook (More...)


4. $800 Worth of Value (More...)

Attraction Info
Ever wonder why King Kong climbed the Empire State Building? It was to get a good look at the New York panorama that can be seen from the well known observatory deck. Sitting almost a quarter of a mile above Fifth Avenue, visitors to the observation deck will be able to see the city from a bird's eye view as well as see the four states that border this part of New York. It is a once in a lifetime opportunity that should not be missed by anyone visiting New York City.

The tower lights on the Empire State Building are a well known way for the city to help promote gatherings as well as displays and they change quite often through the years. The lights which turn off at 2 in the morning every day have evolved over the life of the Empire State Building. For example, on Halloween the lights display in orange, black and white, while during the Christmas and Chanukah season they display red, green and green on the north and south side and blue, white, blue on the east and west sides for the holidays.

It is interesting to note that during the spring and fall the lights are turned off when the days are cloudy, humid or foggy. This is due to the migration of birds through the area. The lights are shut off to protect the birds from flying in to the building and being harmed.