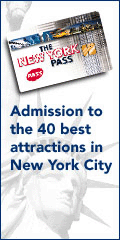 *The NYC Pass Saves You $$$ At The ...*
-->Cloisters Museum and Gardens <--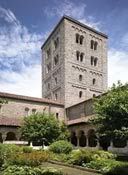 How Much Will You Save At This Attraction?
Top 4 Reasons To Get a New York Pass

1. Free Entry To Over 55 Attractions (More...)


2. No Waiting - Skip Lines (More...)


3. Free 160+ Page Guidebook (More...)


4. $800 Worth of Value (More...)

Attraction Info
As part of the Metropolitan Museum of Art, the Cloisters Museum and Gardens overlooks the Hudson River and is part of Manhattan Fort Tryon Park. The museum is dedicated to the perseverance of medieval art and architecture. It opened in 1928 and is a conglomeration of five medieval French monasteries. Today the Cloisters houses 5,000 pieces of artwork that includes sculpture, stained glass, illuminated manuscripts and the famous Unicorn Tapestries. Metal work, ivories, additional tapestries, and ivories are also included in the collection.

The gardens at the Cloisters offer visitors the opportunity to walk through re-crested flower, herb and plant gardens from the many different well known gardens that flourished during the Middle Ages. There are guided tours available for guests to participate in and the Trie Cafe is open between May and October for visitors to relax in and enjoy.

Guests to the Cloisters at the end of September, beginning of October can enjoy a day of Renaissance Faire action as the New York State Renaissance Faire closes the season at the Cloisters complete with craft booths, jousts, and more.