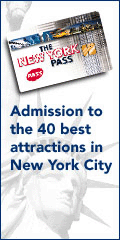 *The NYC Pass Saves You $$$ At The ...*
-->Brooklyn Historical Society <--
How Much Will You Save At This Attraction?
Top 4 Reasons To Get a New York Pass

1. Free Entry To Over 55 Attractions (More...)


2. No Waiting - Skip Lines (More...)


3. Free 160+ Page Guidebook (More...)


4. $800 Worth of Value (More...)

Attraction Info
Founded in 1863 as a way to preserve some of the unique history of the borough of Brooklyn, the Brooklyn Historical Society has become one of the most renowned urban historical centers in the United States. It has one of the largest historical collections and libraries housed within its walls and the staff conducts numerous tours and lectures as well as provides visitors with exhibits, neighborhood history guides and educational programming that imparts what Brooklyn is like and the people that built up the community found there. Located in the Brooklyn Heights Historic District, the renovated building that houses the Brooklyn Historical Society is a city and national landmark in its own right.

One of the tours that the Brooklyn Historical Society provides their guests is a self-guided walking tour of the twenty different architectural sites in the Heights that are worth noting. The Brooklyn Historical Society is also within easy distance of the three block waterfront Brooklyn Heights Promenade that will give you a wonderful view of lower Manhattan, the Brooklyn Bridge, the Verrazano Bridge, the Manhattan Bridge and the Statue of Liberty.