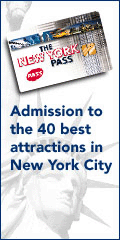 *The NYC Pass Saves You $$$ At The ...*
-->Brooklyn Botanic Garden <--
How Much Will You Save At This Attraction?
Top 4 Reasons To Get a New York Pass

1. Free Entry To Over 55 Attractions (More...)


2. No Waiting - Skip Lines (More...)


3. Free 160+ Page Guidebook (More...)


4. $800 Worth of Value (More...)

Attraction Info
If you are looking for a romantic attraction in New York City to enjoy or if you are interested in the state's natural flora and fauna then you should take a stroll through the Brooklyn Botanic Gardens. Considered the premier horticultural attraction in the five boroughs, the gardens are made up of many different sections that always seem to in bloom. It has been called New York City抯 only natural wonder and with fifty-two acres that house over 11,000 plants from around the world visitors can easily see why.

The gardens were opened to the general public in 1910 and actually started out as an ash dump from the late 1800s that was turned into the gardens that we know today. The individual gardens range from the exotic to the historic with the Children's Garden being on of the oldest. The Japanese Hill-and-Pond Garden was recently restored to its former beauty and there is a Discovery Garden that children seem to adore. With a Conservatory, Cafe and gift shop, the Brooklyn Botanic Gardens are a unique way to spend the day.

Anyone interested in learning more about botany, horticulture and the conversation of plants can pick up information about it at the gardens. They support education, scientific research and community outreach on how to take on these types of projects.