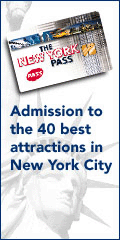 *The NYC Pass Saves You $$$ At The ...*
-->Bodies��The Exhibition <--
How Much Will You Save At This Attraction?
Top 4 Reasons To Get a New York Pass

1. Free Entry To Over 55 Attractions (More...)


2. No Waiting - Skip Lines (More...)


3. Free 160+ Page Guidebook (More...)


4. $800 Worth of Value (More...)

Attraction Info
If you really want to get an up close and personal look of the human body especially from the inside then Bodies The Exhibition is for you. The exhibit is an inside look at the complex human body, concentrating on the organs and tissues that make humans what they are. Actual human bodies were used for this exhibition, allowing the average layperson of all ages a new way to experience how the body works and how everyone can become an active participant in their own health care. What you see at Bodies The Exhibition are sights that have previously only been open to the medical student and professionals.

Since the exhibit uses real bodies it was important to have the bodies properly preserved so that they did not begin to decay. All of the bodies used in this unusual exhibit were preserved according to standard mortuary science and practice. The bodies are then dissected so that it is displayed in a unique way to reveal certain aspects of the human body before being placed in silicone or polymer and then vacuum sealed before being hardened and preserved.