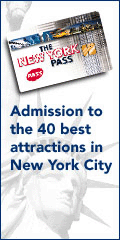 *The NYC Pass Saves You $$$ At The ...*
-->Jewish Children's Museum <--
How Much Will You Save At This Attraction?
Top 4 Reasons To Get a New York Pass

1. Free Entry To Over 55 Attractions (More...)


2. No Waiting - Skip Lines (More...)


3. Free 160+ Page Guidebook (More...)


4. $800 Worth of Value (More...)

Attraction Info
Children of all religious denominations will enjoy the Jewish Children's Museum where signs that say "Keep Off" and "Do Not Touch" are absent. The Museum is dedicated to Jewish history and heritage, providing children and their parents the opportunity to learn about this unique culture and religion in an interactive environment that stimulate the mind. With creative multi-media activities that will educate and entertain children, the Jewish Children's Museum is a great place for everyone to visit.

Using all types of technology, computer games, videos, and more, children can learn about Jewish history, culture, and values. The exhibits beg children to press buttons, push open doors, smell and feel things, and laugh as they learn about a new culture. There is a 74 seat audiovisual theater at the museum, a miniature golf course, and craft workshop among the exhibits in the 50,000 square foot accommodation.

The exhibits include biblical history, information about Israel, information on the major Jewish holidays and an overview of the everyday Jewish life to name just a few of the exciting things that are on display here.