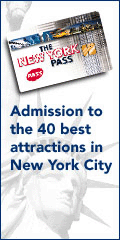 *The NYC Pass Saves You $$$ At The ...*
-->American Museum of Natural History <--
How Much Will You Save At This Attraction?
Top 4 Reasons To Get a New York Pass

1. Free Entry To Over 55 Attractions (More...)


2. No Waiting - Skip Lines (More...)


3. Free 160+ Page Guidebook (More...)


4. $800 Worth of Value (More...)

Attraction Info
The American Museum of Natural History is one of the most popular attractions in New York City. It has been appealing to children of all ages since it first opened its doors in 1869. The museum complex is made up of 25 interconnecting buildings that are the home to 46 permanent exhibits, a world renowned library, and numerous research laboratories. In total there are over 150 millions specimens owned and housed at the museum yet only a small fraction of them can be displayed at one point in time. The museum is also the sponsor of over 100 special field expeditions each year that bring in more specimens to ultimately be displayed.

With unique exhibits such as the Earth and Space exhibit in the Rose Center or the Hall of Biodiversity African rain forest, visitors to the museum will enjoy learning about the world around them in an exciting and engaging way. There are more than 600 specimens of dinosaurs and fossils on display including the 3.2 million year old skeleton of Lucy? a bi-pedal hominid found in the Ethiopian basin, one of the oldest of its kind.

For some added fun while visiting the museum, see how many real versions of exhibits and displays you recognize from the major motion picture right At The Museum?