***SofLens 38 (Optima FW) Contacts***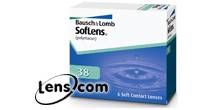 Best Price Guarantee (Up to 70% Off Retail)


Multiple Shipping Options (Next Day, 2nd Day, International)


Selling Contact Lenses Since 1995

Product Description
SofLens 38 uses an ultra thin design and time tested materials to provide crisp, clear vision and comfort.These lenses are tinted for ease of handling and will not change the color of your eye. The tint is simply designed to facilitate locating the contact lenses in solution.Note - SofLens 38 is the new name for the Optima FW Lens. The two lenses are identical outside of the new name and packaging.

Review
" I have worn these Bausch & Lomb Softlens 38 contact lenses for 15 years (since 12 years old!). They are extraordinarilly comfortable and 98% of the time you don't even know they are in your eyes. Yes, like any lenses, your eyes may get dry after wearing them 18 hours or you may tear a lens once a year but overall they are great, reliable, comfortable - and now a days the soft lens 38 contacts are very affordable too! "