***Sofmed 38 Contacts***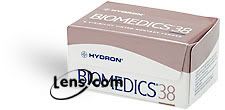 Best Price Guarantee (Up to 70% Off Retail)


Multiple Shipping Options (Next Day, 2nd Day, International)


Selling Contact Lenses Since 1995

Product Description
Sofmed 38 are weekly disposable soft contact lenses. These store brand lenses are identical to Biomedics 38 and UltraFlex 38 and all orders will be shipped as either Biomedics 38 or UltraFlex 38.These lenses are tinted for ease of handling and will not change the color of your eye. The tint is simply designed to facilitate locating the contact lenses in solution.

Review
" The O-Perm 60 gas permeable contact lenses is the most breathable RGP that I have ever wore. Other gas permeable contact lenses that I wore in the past never felt like they let anything through. They would always dry out my eyes and irritate them then. The O-Perm 60 contact lets my eye breathe so it stay hydrated and comfortable. "