***Vertex Toric (Encore Toric) Contacts***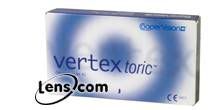 Best Price Guarantee (Up to 70% Off Retail)


Multiple Shipping Options (Next Day, 2nd Day, International)


Selling Contact Lenses Since 1995

Product Description
Vertex Toric are disposable contact lenses whose UltraSync technology offers a uniquely comfortable fit and easy maintenance.These lenses are tinted for ease of handling and will not change the color of your eye. The tint is simply designed to facilitate locating the contact lenses in solution.

Review
" I have worn the Vertex Toric contact lenses for about 3 years now and they are always comfortable and fix my eyesight well. I have never had any problems with these lenses for as long as I've been using them. They are a much better alternative to gas permeable contact lenses or other long-term wear lenses for astigmatism. The Vertex Toric contacts are also very easy to take care of and they always last the full 2 weeks and stay comfortable the entire time. "