***NewVues Colors (Focus 1-2 Week SoftColors) Contacts***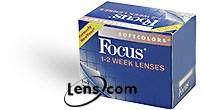 Best Price Guarantee (Up to 70% Off Retail)


Multiple Shipping Options (Next Day, 2nd Day, International)


Selling Contact Lenses Since 1995

Product Description
NewVues Colors (also known as Focus 1-2 Week SoftColors) combine the freedom of crisp, clear vision and enhanced comfort offered through frequent replacement with a brilliant array of colors.

Review
" I have been using the Focus weeklies for about 2 years now and I wanted to try some colored contacts. I love the focus lenses so I tried these NewVue Colors and they are great. The colors are really vibrant and really brighten up my face. The quality of my vision is great and these lenses are very comfortable, even after several hours. "