***SofLens Toric (SofLens 66 Toric) Contacts***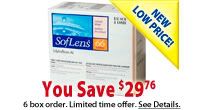 Best Price Guarantee (Up to 70% Off Retail)


Multiple Shipping Options (Next Day, 2nd Day, International)


Selling Contact Lenses Since 1995

Product Description
Soflens 66 Toric's unique material and innovative design offer sharp vision and all day comfort.These lenses are tinted for ease of handling and will not change the color of your eye. The tint is simply designed to facilitate locating the contact lenses in solution.

Review
" For several years I've worn the Bausch & Lomb SofLens Toric with out any significant problems with fit, comfort and visual acuity. Let's face it, these SofLens 66 Toric lenses help correct the astigmatism. I love my SofLens 66 Toric lens and being able to see w/out any discomfort. Thank you B&L, and thank you Lens.com for the great price. "