***Proclear 1 Day Contacts***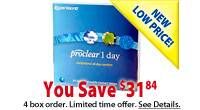 Best Price Guarantee (Up to 70% Off Retail)


Multiple Shipping Options (Next Day, 2nd Day, International)


Selling Contact Lenses Since 1995

Product Description
Proclear 1 Day contact lenses offer an unrivaled level of comfort in a daily disposable lens. The Proclear 1 Day lens makes use of PC technology, which creates a unique material that attract and surround themselves with water and so keeping the lenses moist and comfortable after 12 hours of wear.

Review
" If you looking for daily disposable lenses, these are a good choice. I need to wear daily disposable because I get bad eye allergies and the dailies don't give me any. I have tried about every single daily disposable contact lens until my doctor gave me a free trial pair of the Proclear 1 Day disposable contact lenses. Right after that I bought my first box and have been wearing them ever since. "