***NewVues (Focus 1-2 Week) Contacts***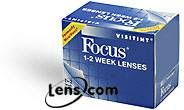 Best Price Guarantee (Up to 70% Off Retail)


Multiple Shipping Options (Next Day, 2nd Day, International)


Selling Contact Lenses Since 1995

Product Description
NewVues (also known as Focus 1-2 Week Visitint) are soft contact lenses that offer the freedom of crisp, clear vision and enhanced comfort through frequent replacement. These lenses are tinted for ease of handling and will not change the color of your eye. The tint is simply designed to facilitate locating the contact lenses in solution.These lenses are also available in COLOR!NewVue lenses are available in an array of beautiful colors.Click here to check out NewVues Colors.

Review
" These contacts are awesome. I have never needed to ask my doctor for an alternative, because these have always worked great for me. They give me superior clear vision and are super comfortable. I wear them for 2 weeks and just throw them out. "