***Extreme H2O 59% Xtra Contacts***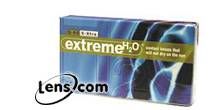 Best Price Guarantee (Up to 70% Off Retail)


Multiple Shipping Options (Next Day, 2nd Day, International)


Selling Contact Lenses Since 1995

Product Description
Extreme H2O 59% Xtra are monthly disposable contact lenses produced by Hydrogel Vision. These lenses are designed for patients suffering "dry eye" symptoms. The Extreme H2O 59% Xtra lens retains 99% of its water content on the eye, even under extreme conditions. All lens dimensions and oxygen permeability present in the first hour of wear, will be present in the last. Lens comfort, movement, and fit will be stable throughout the day.

Review
" Hey, I tried a million and one contacts in the past and couldn't wear them for love or money. Finally the Doc decided to try the Extreme H20 and what a difference. I am studying for my comp test and writing my dissertation. Glasses just weren't cutting it. As a teacher of students with special needs I also no longer have to deal with chasing my reading glasses or trying to keep them off my inquisitive students faces. (Lay them down for a second and little hands find little ways to reach them) I don't get headaches or have to deal with cleaning the glasses every five minutes. Try them you'll be surprised!! - Deb "