***Biomedics Toric Contacts***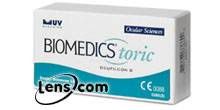 Best Price Guarantee (Up to 70% Off Retail)


Multiple Shipping Options (Next Day, 2nd Day, International)


Selling Contact Lenses Since 1995

Product Description
Biomedics Toric offer the comfort and clarity of Biomedics spheres for patients who suffer from astigmatism.

Review
" The Biomedics Toric contact lenses are great if you want to correct your astigmatism and get a comfortable lens but you don't want to spend a fortune on contact lenses. My sight with these lenses is always perfect and the stability is unbelievable which is very important in a toric lens as your vision never gets blurry when your lenses move. The comfort that theses Biomedics Toric offer is incomparable the other toric on the market. Truly a great product. "